Remembering the Lisburn soldier who died just weeks
before the end of the war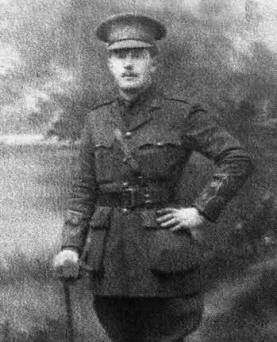 Major Campbell McCormack
AT 11am today (Friday) descendants of a highly decorated First World War soldier from Lisburn will pause to remember the brave medic who died just weeks before the end of the conflict.
Dr Major Campbell McNeill McCormack from Hillhall was 27 when he died after a shell hit his shelter in France on September 22, 1918 - less than two months before the end of the conflict.
Even more poignantly the news of his death reached his family in Lisburn on October 25, 1918 - the same day his wife of one year gave birth to their still born child.
Dr McCormack was a member of the 5th Field Ambulance Royal Army Medical Corps. He went to Carr, Ballymacbrennan National Schools, Lisburn Intermediate School and Wallace High School before studying medicine at Queen's. He qualified in June 1914. While in OTC in Queen's he was awarded for the best shot in his company and won four bronze medals for training.
He joined the Reserve of Officers RAMC and went to Aldershot in England at the end of June of that year for preliminary training.
He had planned to return home but with the outbreak of the First World War he left for France with the medical contingent of the Aldershot Division.
Retreated from Mons he "came into prominence for good work bravery performed at Hill 60" a heavily contested area of high ground outside Ypres.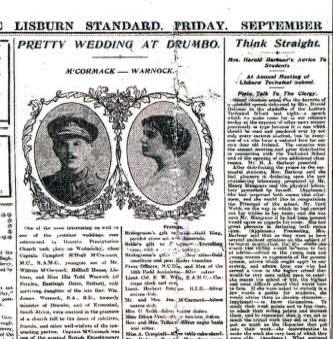 The article in the Lisburn Standard Major McCormack's wedding
He was mentioned in dispatches "for gallant and distinguished conduct in the field" when he was with Sir John French and in 1916 was awarded the MC. The citation in the London Gazette read, "For conspicuous gallantry and devotion to duty during operations. He directed the stretcher - bearers under heavy shellfire with the greatest coolness and courage. He succeeded in entering a village which had been heavily shelled and with another captain, a sergeant and four men collected the wounded into a dug-out an succeeded in getting them back later. He has frequently showed great courage."
He returned home to marry Ella Todd at Drumbo Presbyterian Church on September 12 1917 but returned to France and in late August 1918 or early September 1918 was slightly wounded and was in hospital. Soon after he was killed when a shell hit the shelter in which he and another officer were sleeping. Both were killed instantly.
Writing to his parents shortly after his death Major ER Thornton RAMC wrote, "He was buried yesterday afternoon in the cemetery close by m the presence of all the men of his ambulance who could be spared and detachments from the other ambulances of the division. The General commanding the Division and many other officers were present. At this special request of the men, his body was carried to the grave by the NCOs of the unit. It is difficult for me to express to you the deep sympathy that I feel as I realise what a terrible loss it must be to you all. We all feel it most deeply as he was beloved by officers and men.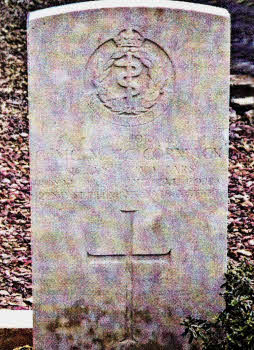 The grave of Major Campbell McNeill McCormack
"Of his unselfishness and courage it is needless to speak for the men would follow him anywhere or do anything which he asked them to do. I wonder if you have any small photographs of him? I should myself so much like one and the other officers are asking for it; in addition if you could let us have a few. I know how deeply some of our NCO's and men of his section would appreciate them. With my very deepest condolences."
Major Mccormack had died along with Lieutenant Colonel Bradley from Monaghan. Both are buried in Barastre Communal Cemetery.
The announcement of his first bar was made shortly after his death. The citation read "For conspicuous gallantry and devotion to duty. During an important engagement he organised the evacuation of the wounded with great skill and devotion to duty, proceeding frequently himself in charge of bearers through hear/ shelling to the rear aid posts. It was largely due to his able organisation and fine example of self sacrificing gallantry that the numerous casualties were evacuated so expeditiously."
His second bar was reported shortly after and reported in the Lisburn Standard on October 25. The circumstances surrounding the award were at that time unknown although according to the paper "it is believed he won it when he was wounded about 11 days before his death."
Ulster Star
11/11/2011