Dunmurry dental girls launch marathon effort for Marie Curie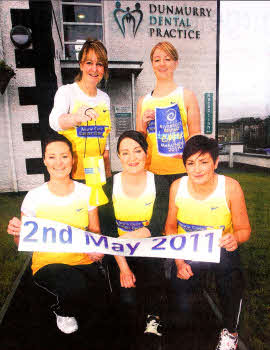 Staff of Dunmurry Dental Practice Debbie McLernon, Tracey Campbell (Back Row), Edel Hughes, Maria Nolan and Joanne Coleman who are taking part in the Belfast City Marathon Team Relay in aid of Marie Curie Cancer Care. US0211-118A0
DUNMURRY Dental Practice staff Debbie McLorinan Maria Nolan, Joanne Coleman, Edel Hughes and Tracey Campbell are on their marks to take part in the Deep RiverRock Belfast City Marathon in aid of Marie Curie Cancer Care.
Last year money raised for Marie Curie in the marathon provided 15,000 hours of high quality nursing care at the charity's Belfast Hospice and to local communities totally free of charge, giving terminally ill patients the choice of dying at home, supported by their families.
Debbie McLorinan said: "The Marathon is a great opportunity for people of all ages and abilities to come together, have some fun and raise money for charity.
"Even if you are not a practiced runner, on seeing first hand the tireless work that the Marie Curie Nurses do, I feel that many of you will be compelled to dust off your trainers and run in the Belfast Marathon to help raise vital funds that can further their service.
"Participants can opt to take part in the fun run, a leg of the relay, walk or run the full 26 miles - it doesn't really matter, what's important is taking part and raising some much needed cash for a charity like Marie Curie Cancer Care that helps local communities across Northern Ireland."
Philip McLorinan, Principal Dentist and owner said: "We hope that as many people as possible will join the girls and put on their running shoes for Marie Curie. And if you can't take part by running, I would encourage people to come together to sponsor and cheer on people running for the charity. We will be collecting at the surgery and of course there on the day to cheer them on."
The Belfast City Marathon takes place on May Day Bank Holiday Monday (2 May 2011). For more information log on to www.belfastcitymarathon.com and to find out about running for Marie Curie Cancer Care contact 08700 340040 or visit www.mariecurie.org.uk/running.
Ulster Star
21/01/2011