Bolt from blue as school faces the axe
by JENNY MONROE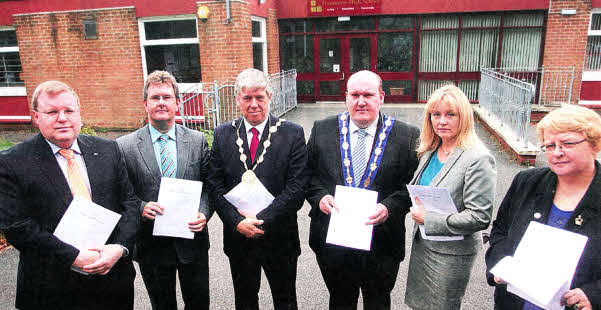 MLA Jonathan Craig, Lagan Valley MP Jeffrey Donaldson, Lisburn City Mayor Brian Heading, Deputy Mayor William Leathem, MLA Brenda Hale and Councillor Margaret Tolerton who are urging local people to sign a petition to keep Dunmurry High School open.
THE future of a local school looks bleak after the South Eastern Education and Library Board started a consultation about the potential closure of Dunmurry High School by the end of the academic year. The news has stunned and angered many parents and local political representatives who say there was no indication such a drastic move was even being considered.
Lagan Valley Assembly member, Jonathan Craig said closure would leave a huge area around Dunmurry without a school provided by the state, forcing pupils to travel long distances on routes which was not served by buses.
"I am deeply angered by this news which was first given to the parents of those children currently attending Dunmurry High at the weekend," said Mr Craig. "There was no warning over this announcement, not even a whisper. It has been a major shock to the local community, especially parents, children and former pupils from Seymour Hill."
He added: "This will leave a gap in the controlled sector, with the nearest controlled school being Laurelhill. There is no direct transport link available for children travelling there, which is an issue that has been raised with me by parents who do not want to send their children to an integrated
school. Children will therefore be expected to travel several miles in order to obtain an education."
He continued: "The other issue is that children awaiting to sit GCSE examinations, not next year but the year after, will be subject to interference and upset as they will be required to find a new school despite having already chosen their subjects and being one year into their courses. "
As well as the upset and annoyance the question that needs to be asked is 'will these children be able to take the same subjects they have already begun working for at different schools'? "
I will he raising this issue with the Education Minister and requesting that the decision is reviewed urgently. This would leave many parents and children high and dry", he concluded. Councillor for the area Margaret Tolerton said she was shocked by the news. "This has hit the residents from Seymour Hill, Conway, Miltown and Derriaghy like a bolt out of the blue" she said.
She is urging the local community to work together to try and retain the school and said a petition has already been launched which can be signed at the DUP office in Lisburn and that a parents' meeting was scheduled for Thursday night at the school.
A spokesperson for the SEELB said: "The Commissioners at their meeting on Tuesday September 20 have agreed that consultation should commence with Governors, staff, parents and other affected groups regarding the potential closure of Dunmurry HS by 31 August 2012 or as soon as possible thereafter.
"After this pre-consultation stage the Commissioners will decide on the publication of a Development Proposal prior a statutory two months formal consultation period. A decision to close the school can only be taken by the Minister for Education."
Parents concerned by uncertain future
THE future of Dunmurry High School ultimately is in the hands of the Education Minister John O'Dowd and parents are calling on him to carefully think about the consequences.
David Mack, Parents' representative on the school's Board of Governors, said people are genuinely worried about the future of their children's education.
David, who has a 14-year-old son at the school, said he has been approached by many parents who are deeply concerned.
He is being asked all sorts of questions including what action wiIl be put in place to ensure that
children who are embarking on their GCSEs won't be disadvantaged.
David said: "What happens to those kids doing GCSE's if the subjects they are studying aren't offered in other schools? This would be a breach of the Education Board's legal obligation."
He continued: Also there's the issue of where the children with learning difficulties are going to be placed. There are over 70 in the school.
"Teachers worked tirelessly to arrange plans of action when the school was placed on an intervention process earlier in the year and this was accepted by the Board and there was no direct
talk of closure," he added.
At Tuesday's monthly meeting of Lisburn City Council Lagan Valley MLA Jonathan Craig proposed the Council write to the Chief Executive of the South Eastern Education and Library Board and to the Education Minister outlining its concern for the future of the school. This was agreed.
He also said that the lack of political representation on the Education Board had been a hindrance. The SEELB is currently being run by appointed commissioners.
Ulster Star
30/09/2011