Special fundraising night proves fitting tribute to Dylan
by MARY MAGEE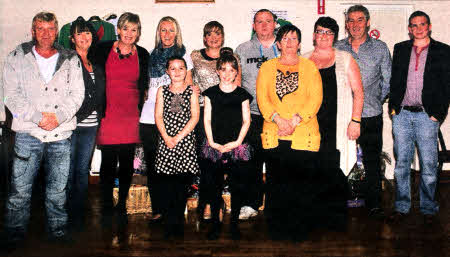 L-R Ashley Parker, Coach LMFC Under 14s, Lode Parker organlser, Carol Crook, organiser, Elizabeth, Dylan's mum, Chelsea, Dylan's sister, Glorla Snoddy, chlef organiser, Nlklta, Dylan's cousin, Robert, Dylan's uncle, Diana, Dylan's grandmother, Lee Anne, Dylan's aunt, Reddy Crooks, Under 14 LMFC Manager and Erlc McCreary, Under 14 Coach
A SPECIAL fundraising night in memory of a Lisburn schoolboy who died last year which raised an amazing £4,300 was described by organisers as a 'great evening'.
Lower Maze Football Club held the special charity night at Lower Maze Social Club in memory of one of its young players Dylan Livingstone, who passed away last December.
Dylan (12), who played for the Under 13 team, suffered from a spinal tumour and sadly passed away just ten months after being diagnosed on December 12, 2010.
As Dylan was so well cared for at the oncology and haematology ward at the Royal Belfast Hospital for Sick Children, the club was aiming to raise over £3,000 which will go towards either purchasing equipment, ward renovation or an MRi scanner.
Earlier this year at the club's prize giving Dylan's mother Elizabeth was the special guest and handed out prizes to players. The Chairman's Cup, which was won by Dylan the previous year, was renamed the Dylan Livingstone Cup. As a result the family were given the existing cup and a new one was the introduced which Elizabeth presented it at the prize giving.
Organiser of the fundraising event Carol Crooks said the evening was a fitting tribute to Dylan and thanked his family for helping out.
"A big thanks to all the parents, friends and family who supported us on the night and also to Michelle Hughes, Lorie Parker for organising the supper," she said.
"Thank you to Alistair and his daughter for the music and Dance Youth Lisburn for the magnificent display of modern dance. A mention also for the staff at Lower Maze Social Club for all their help on the evening. "It was a great evening and everyone enjoyed the raffle and auction, a kindly donated signed Darren Clarke shirt and photo raised £330.
"A special thank you to Dylan's young sister Chelsea who helped Gloria and Carol with the organisation on the night."
Ulster Star
14/10/2011