Charity night at lower Maze in memory of Dylan
by MARY MAGEE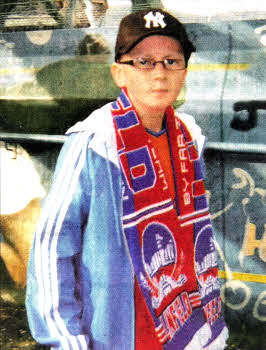 Dylan Livingstone
LOWER Maze Football Club are holding a special charity night in memory of one of its young players who passed away last December.
Dylan Livingstone (12), who played for the Under 13 team, suffered from a spinal tumour and sadly died ten months after being diagnosed on December 12, 2010.
As Dylan was so well cared for at the oncology and haematology ward at the Royal Belfast Hospital for Sick Children, the club aims to raise over £3,000 which will go towards either purchasing equipment, ward renovation or towards an MRI scanner.
Organisers of the special night on October 1 have so far received donations from Ed's Diner, local hairdressers, beauticians and Ventura donated a £1000 voucher for a family photography sitting. Earlier this year, at the club's prize giving, Dylan's mother Elizabeth was the special guest and handed out prizes to players. The Chairman's Cup, which was won by Dylan the previous year, was renamed the Dylan Livingstone Cup. As a result the family were given the cup and a new one was then introduced which Elizabeth presented at the prize giving.
Following that night, members of the club thought it fitting to hold a special fundraising night on behalf of the up and coming star who had been a firm supporter of the club for six years.
One of the organisers, Carol Crooks, whose husband Roddy is the club manager, said they all wanted to do something fitting in Dylan's memory.
Roddy was Dylan's manager and Carol's two sons, who are also members of the club, played with Dylan. "Dylan was always such a good natured, quiet young boy and avid Chelsea fan, who was always very respectful and well liked in the club," said Carol.
"He never complained or moaned when he was asked to do something. He just got on with it and did it. He got on well with everyone.
"Despite his illness, when he was able to he still came to the matches supporting the other players. His mother could not drive so his uncle brought him most times. There was always someone who was willing to give him a lift.
"He is sadly missed."
Dylan passed away at his Ashlea Place home surrounded by his family on December 12 last year. It was in January 2010 when his family first realised that all was not well with Dylan when he collapsed while going down the stairs.
An MRI scan at the Royal detected a large growth on the back of his neck and he was taken for an operation to remove part of the tumour. It was later revealed he had a rare condition, an aggressive malignant rhaboid tumour on his vertebrae.
During his illness, the Castlereagh League raised £1000 and his mother's hairdressing salon, Ash at Longstone Street, also raised around £900 in a special event last June.
He was also special guest of the Northern Ireland football team during their training session at their match against Morocco.
The special fundraising night will be held at the Lower Maze Social Club on Saturday October 1. Doors open at 8pm.
Ulster Star
16/09/2011