Family raise elderly abuse concern with First Minister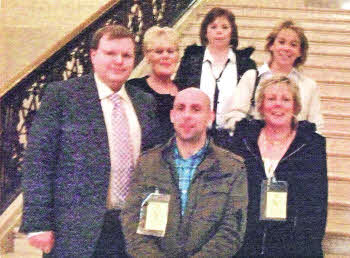 Anne Blake, Lisburn Carers Forum and Jonathan Craig with the family of the late lvy McCluskey, at Stormont following a meeting with the First Minister.
THE family of an elderly Lisburn woman whose food was being eaten by the care assistant supposed to be feeding her have met with the First Minister to call for clearer legislation on abuse of the elderly.
Accompanied by Lagan Valley MLA Councillor Jonathan Craig and representatives from the Lisburn Carers Forum, Anne Blake and Valerie Martin, the son and daughter of the late Ivy McCluskey took their concerns to Peter Robinson at Stormont this week. Mandy, Diane and Ivan McCluskey and their sister Lorraine McAlinden, were devastated when they discovered Lisburn woman Patricia Young, 54, was eating food meant for their helpless mother, 70, whose stomach rumbled from
hunger pangs when she was put to bed at night. Alarmed by her loss of weight, they installed a hidden camera to monitor Young as she attended the pensioner at her home. Later they looked on in disbelief as they watched a recording of the care assistant eat the food which was supposed to be set in front of their mother - who died three months after Young stopped caring for her.
After the meeting Mandy McCluskey said she was delighted to have the chance to speak to Mr Robinson. "I found him very welcoming and he made us all feel comfortable" she said.
"We expressed our concerns about the lack of legislation, to our knowledge, about abuse of
elderly, and he promised to take this seriously and said he will be looking into it." Mr Craig said he was pleased the McCluskey family had the opportunity to speak with the First Minister.
I was absolutely horrified to hear of the abuse of trust that the family has went through, an abuse that the fear may have contributed to the early passing of their mother" he said.
"I would like to commend the family for having the courage to not only go public on these difficult issues for them, but also want to praise them and the Carers Forum for their wish to insure that no other family will be put in this horrific position."
Ulster Star
14/02/2011