Local schoolgirl wins chance to sing at Ulster Hall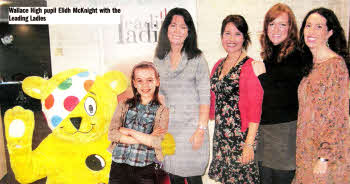 Wallace High pupil Elidh McKnight with the `Leading Ladies
WALLACE High School pupil, Elidh McKnight has triumphed over almost fifty contenders to win The Leading Ladies Little Stars vocal competition and a chance to sing live at the Ulster Hall next week.
The talented 11 year old certainly impressed the judges who consisted of Northern Ireland songbirds The Leading Ladies and Pudsey Bear during the day long auditions at Belfast's Europa Hotel last Saturday. Elidh will now share the stage with her judges to perform the beautiful Christmas classic, 'Walking in the Air' at the forthcoming concert, 'Christmas with The Leading Ladies & Galway Tenors' which takes place on Thursday December 1 at 7.30pm.
Leading Lady Michelle Baird said: "We were blown away by the high standard of auditionees for our competition but Elidhs voice and natural performance ability shone through. We are delighted that she will be sharing the stage with us next week and know she will be fantastic in her solo piece. As we were greatly impressed with many of the other children, we have also invited back a small group to perform 'Away in a Manger' as part of the concert."
She continued: "The show promises to be a great start to the festive season and it is also The Galway Tenors debut performance in Northern Ireland, and with The Leading Ladies, so the girls and I are very excited.
"Inchmarlo Preparatory and Victoria College Junior Choirs will also be joining us. The varied and entertaining programme features some beautiful Christmas music but also includes classic operatic pieces and our own unique versions of well known hits by artists such as Take That, Carly Simon and the Andrews Sisters so it's definitely a night not to be missed."
Tickets for 'Christmas with The Leading Ladies & Galway Tenors' are available from the box office on 028 9033 4455 or online at www.waterfront.co.uk.
julieann.spence@ulsterstar.co.uk
Ulster Star
25/11/2011