Super FM achieve their second grand slam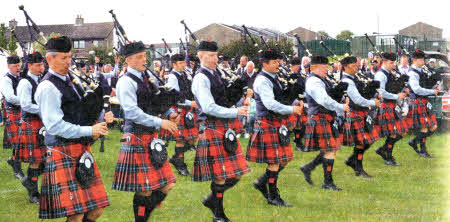 Field Marshal Montgomery winning at the All Ireland Pipe Bands & Drum Major Championships at Lisburn Leisure Park on 2nd July - one of their five major titles.
A LISBURN pipe band has made history after winning every major championship of the season. Field Marshal Montgomery took the top prize at the Cowal Championships in Scotland last Saturday to add to the British, Scottish, European and World titles already under their belt to under their belt, this made it five out of five back-to-back victories.
They enjoyed the same success back in 1993 and are the only band ever to have achieved the record twice.
Pipe Major Richard Parkes said: "We're all absolutely delighted.
"It's a feat that's been achieved only a few times but we're the only band that's ever done it twice."
Mr Parkes, who was in the band the first time round, said it has been "an unbelievable experience".
"The last time we got the grand slam was in 1993. Pipers have come and gone since then but there's myself and one other member who were in the band back then and it's a great feeling to have done it twice."
He went on to explain that because the standard of pipe hands has been so high this season, members never expected to win one let alone all five.
But he said the band was particularly motivated this year due to having lost out on the world title previously.
"We came second in the world championships for the last three years running so that sort of spurred us on," he said.
"I think that's why we worked that bit harder. And obviously it's something we all enjoy doing.
"I come home at night from work and spend at least a couple of hours practising. That's what we all do. It's about dedication and it's paid off this year."
To add to Saturday's success, Samantha Gordon from Field Marshall won the adult drum major title.
Ulster Star
02/09/2011