Journalist heads to Afghanistan to keep soldiers and families in touch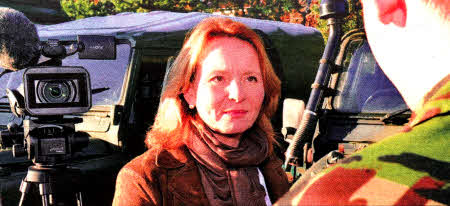 Fiona Weir who is heading to Afghanistan
LOCAL girl, Fiona Weir, a video journalist with the British Forces Broadcasting Service (BFBS) in Lisburn, is to head off to Afghanistan to report on local men and women in the Armed Forces from Northern Ireland.
With two local regiments, the Royal Irish and the Irish Guards, currently in Afghanistan Fiona will be filming and recording how men and women are changing the lives of the Afghan people.
She will be reporting back to the four local BFBS radio stations in Lisburn, Antrim, Holywood and Ballykinlar with messages from serving soldiers to their loved ones.
Fiona said: "Valentine's Day is fast approaching and there will be many young men and women keen to send loving messages to their wives, husbands, girlfriends, boyfriends or partners.
"These soldiers have been away from their loved ones for several months now.
"I'm a friendly face from back home, and they know I'll be able to send that extra special message home which will mean the world to that individual who's waiting patiently for their safe return in the Spring.
"My job as a television and radio journalist for the British Forces Broadcasting Service is also about communicating what is happening in the Armed Forces around the world, so some of my filming will be aired in forces bases worldwide. This will be in addition to my recordings for the local BFBS radio stations here.'
Fiona added, "This is my first trip to an operational environment so to be honest I'm a little anxious, only in the sense that it is the unknown. I've been to Kenya before and other Armed Forces locations around the world but never to Afghanistan."
Fiona said that she had gone on a number of courses to prepare for the trip.
"Every eventuality has to be catered for and the Ministry of Defence ensures that everyone, particularly as I'm a civilian, has attended or passed the right courses and adheres to their regulations before they allow us to go," she said.
"It's also important to the BFBS that they look after me. My training to date will allow me to go to the Forward Operating Bases and speak to the officers and soldiers on the frontline. I head off in a few days, and I'll be able to report back to local BFBS radio in early February."
BFBS can be listened to at Antrim/Aldergrove on 106.5 FM and in Lisburn on 100.6 FM. You can also listen on Sky Guide Number 0211, Freesat Channel 786 and online at www.bfbs.com.
Ulster Star
21/01/2011