35 lobs to be created as Frankie and Benny's to open at Sprucefield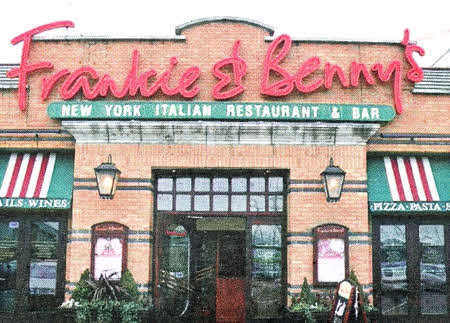 A typical Frankie and Benny's, which expects to open in Lisburn later this year.
A NEW York Italian-style bar and restaurant is to open in Lisburn later this year.
Plans for a Frankie and Benny's restaurant have been submitted to the Planning Service, and it is hoped approval will soon be granted for the restaurant which will be situated at Sprucefield. The new bar and restaurant is expected to create approximately 35 jobs from Management through to kitchen staff, front of house servers, bussers, hosts and bar tenders.
The planning application for Frankie and Benny's was submitted in December 2010, and the architect behind the proposal said he hopes the application will come up before the council's planning committee in the near future. He added that the restaurant will be situated on the overspill car park, adjacent to the car park at Sprucefield. The Restaurant Group PLC, the company behind Frankie and Benny's, expect to open the restaurant in either September or October, saying that the eatery will have space for 142 customers and a bar area.
Frankie and Benny's, which first opened in 1995, is now at over 170 locations across the UK.
The restaurant is described as a "fun 1950's Italian American style restaurant" with booth seating, old black and white photography and a bottle-lined bar in each restaurant. It offers a menu including New York style steaks, potato skins, ribs, burgers, pizzas, pastas, house specialities and seafood dishes.
Ulster Star
18/02/2011