Motorcyclist loses his life in `freak accident'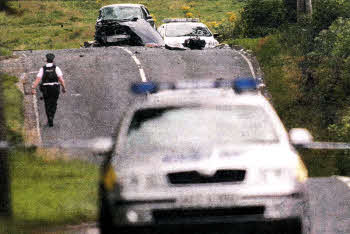 The scene of the accident on Sunday
A 'SAFE and experienced' motorcyclist is how the parish priest of the Church of the Nativity Fr. Pat Sheehan described the 45year-old grandfather John (Sean) O'Neill who was killed on the Magheraknock Road on Sunday afternoon.
The father of six, who came from Woodside Drive in Poleglass, was killed when his motorbike was in collision with a car on Sunday afternoon. He died and another man was left seriously injured following the crash between the motorbike and a car at the junction of the Magheraknock Road and Creevytennant Road.
At Thursday morning's funeral Fr. Sheehan said: "John left his home on Sunday to do what he loved doing, motorcycling with his friends and club members (The Irish Wolfhounds). "He took for granted that he would return home as he did each time he went. To return home to the people he loved; Margaret-Ann, Liam, John-Paul, Mark, Kaolan, Rebecca and Rachel (and a special person his grandson John-Paul). He took for granted that he would call again with his mother Esther, his brother Michael his family, indeed his whole family circle.
"He was an experienced and safe cyclist. He loved motor cycles and he knew their sturdiness and their dangers. He took precautions as much as anyone can.
"But tragically on Sunday he did not return home. As a result of a freak accident, which no-one yet really understands, he died. No words can ease the pain of the heartbreak that brings to his family. No words can easily console them in their grief."
Assembly member Edwin Poots came on the accident on Sunday afternoon, which happened not far from where he lives.
Mr. Poots already planned to meet the DRD over controversial plans that include a right hand turning lane close to the nearby Cargycreevy Church and said he would now seek talks on how to make the Magheraknock Road safer.
Another MLA and Policing Board member, Jonathan Craig, expressed his deepest sympathy to the family of the victim.
Mr. Craig MLA said: "I express my heartfelt condolences to the family.
"One death on our roads is one too many and it saddens me when we hear news of yet another death. "Road deaths have been decreasing in recent years but there is always the fear that it will rise once again."
Call for improved road safety following fatal accident
LISBURN Councillor James Baird has called on Roads Service to make safety improvements to the Magheraknock Road following last weekend's fatal accident.
Councillor Baird, who extended his sympathies to bereaved family and others involved in the accident, said: "This is a notorious stretch of road for serious and fatal accidents.
"I am calling on Roads Service to increase the signage to draw more attention to the speed limit on the road, to the heights and hollows on the road and to take a look at the feasibility of solid white lines being installed to prevent overtaking on certain stretches of the road" Mr Baird told this week's meeting of Lisburn Council.
Ulster Star
26/08/2011