Friends' named as HI School of the Year
by JENNY MONROE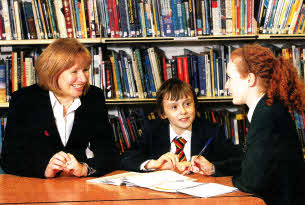 Year 8 pupil Joshua Spratt with his Year 14 Mentor, Caroline Wilkinson, and Principal Elizabeth Dickson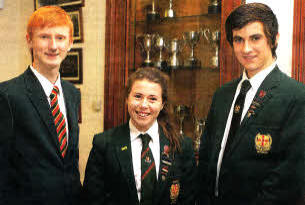 Friends' pupils John Logan, Anna Martin and Jordan McCready. US4611-139A0
FRIENDS' has been named the top Secondary School in Northern Ireland px in prestigious Sunday Times Schools' Guide.
The Magheralave Road school won the accolade for what the judges said was its 'development of the whole child...where everyone is coaxed to perform to the maximum of their abilities'.
The school was also placed second in examination results in Northern Ireland behind Lumen Christi College in Londonderry and 44th across the whole of the UK.
Alastair McCall, editor of The Sunday Times Schools' Guide, Parent Power, said: "Northern Ireland has long had a disproportionately large number of the best schools in Great Britain and Northern Ireland. Friends' School, Lisburn is one of the most exceptional of them.
"It combines high levels of academic attainment, which stand its students m great stead no matter what they go on to achieve, with a Quaker tradition that ensures they leave school firmly grounded and with a sense of their place in the world and their responsibility to help make it a better place.
"With our School of the Year award, we seek to acknowledge the development of the whole child in high-achieving schools, where everyone is coaxed to perform to the maximum of their abilities. The Friends' School, Lisburn, ticked every box."
Principal Mrs Elizabeth Dickson expressed her delight at the news and praised everyone in the school community for an outstanding performance.
"We have excellent pupils," said Mrs Dickson. "Success comes from not just being clever but from working hard and that requires dedication and commitment from pupils and teachers.
"We monitor very closely the progress pupils make through school and work individually with pupils setting targets and discussing ways in which they can achieve," she added.
The award recognises top performance at A level and GCSE, based on the numbers gaining the top grades. The Principal said: "For us this year 83.9% of all grades at A level were at A* to B and 67.53% of all grades at GCSE were at A or A*."
"There is a huge sense of belonging," said Mrs. Dickson. "I think it is that sense of belonging to school that breeds success."
Founded in 1774, Friends' has grown from a boarding school for 30 Quaker children to a thriving state school with 980 pupils in the senior school and 150 pupils in the preparatory department.
While the school roll has expanded and it now welcomes pupils of any faith, Friends' ethos, based on care for the individual, has remained unchanged. Commenting on the school's success Head Boy Jordan McCready, 17, said: "It is a great privilege and an honour that we have been recognised like this. The good work ethic has paid off."
Head Girl Anna Martin, 18, was also delighted with the news. She said: "It is a real honour to get this public recognition."
John Logan, 16, one of four pupils to receive 10 A* grades at GCSE last term, said he is very proud of his school not only for the academic excellence but for the "huge range of opportunities beyond the classroom." To which Mrs Dickson said: "I really do not know how they balance so many different activities so successfully."
She continued: "We want to challenge the pupils beyond the classroom."
Ulster Star
18/11/2011