Chance to sample life in Georgian Lisburn
by JENNY MONROE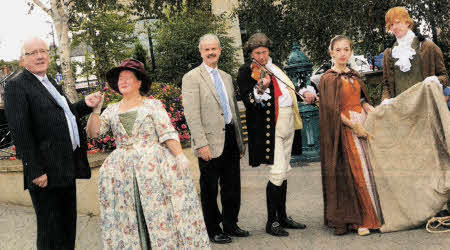 Cllr Allan Ewart and Cllr Thomas Beckett with the Georgian Soap Group.
EVER wondered what it was like to live, work and play in Georgian Lisburn? Well, there's a chance to find out this Saturday when Lisburn City Centre will welcome a host of Georgian characters transporting the city back in time.
Characters will be there to share what life was like, to teach some typical Georgian dance and fencing moves and to share the talk and goings on of Georgian life in Lisburn.
There will be gossip and entertainment, drama and dance as the Northern Period Productions Living History characters take the city back nearly three centuries.
Alderman Allan Ewart, Chairman of Lisburn City Centre Management and Councillor Thomas Beckett, Chair of the council's Leisure Services Committee met some of the characters in the city centre earlier this week to find out what visitors can expect this Saturday.
Mr Beckett commented: "We got a preview of what the characters will be doing this weekend including some traditional Georgian dancing and how to perfect some duelling moves with the fencing teacher. On Saturday there will also be a Victorian Fashion show and a range of other historic activities and events to mark Lisburn Heritage Month which is funded by Lisburn City Council's Community Festival Fund."
Mr. Ewart added: "Living History is a great fun way to interact with people from the past while learning how different things are today. It also provides some light-hearted
entertainment and animation to anyone visiting the City Centre on Saturday."
In addition to the Georgian characters Castle House, facing Castle Gardens, hosts a fantastic Victorian Fashion show where the Victorian Ladies of Lisburn will show off the latest fashions of the time, as well as filling you in on the latest gossip and a bit about their lives. The fashion show is suitable for all the family and takes place at 1pm and 3pm, entry is free though spaces are limited.
Join in the entertainment and revelry with an historic family afternoon out in Lisburn City Centre. Lisburn Heritage Month is promoted and organised by Lisburn Historic Quarter Arts Group and Lisburn City Centre Management. For more information visit www.lisburnccm.co.uk or call 028
9266 0625.
Ulster Star
16/09/2011