`Irreplaceable' gold Key stolen from museum
by MARY MAGEE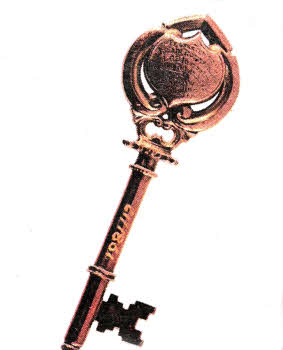 Irreplaceable gold key
AN irreplaceable gold key dating back to the 1920s has been stolen from the Irish Linen Centre and Lisburn Museum at the weekend.
The key measures 8.3cm in length, and was being displayed in a secure case when it went missing on Saturday from the Museum in Market Square.
Staff from the museum immediately notified the Police about the loss and an investigation has already begun according to the council.
The gold key dates back to 1921 is considered invaluable and irreplaceable to the museum. It was presented to Adrian Robinson Esq. Local Government Board Inspector on the occasion of the opening of the Lisburn and Hillsborough District Hospital in Lisburn; and was donated to the museum 30 years ago in 1981.
A spokesperson for Lisburn Council said they were anxious to see this valuable piece of _ Lisburn's history' being safely returned to the museum.
The Council would like anyone with information on this theft to contact Lisburn Police on its non-emergency number 0845 600 8000 or the confidential Crimestoppers on 0845 555 111.
Police in Lisburn are also appealing for information from anyone who can help their inquiries.
Ulster Star
02/08/2011