Graeme begins his new life in the army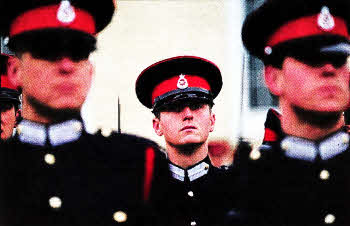 LISBURN man Graeme Kilpatrick has just been commissioned as an Officer of the British Army, at a ceremony held at the Royal Military Academy Sandhurst.
Graeme, who is 28 years old, has spent the last year at the prestigious officer training base in Camberley, Surrey. He will soon join the Adjutant General Corps, Education and Training Services and will initially be posted in the South of England.
"It's been an amazing, life changing experience," said Graeme of his time at Sandhurst. "It's been difficult being away from my family but it's absolutely the career for me so it was worth it.
"I've learned so much here, both academically and personally speaking. I've made so many
good friends; you make a little family for yourself and that's what gets you through it. The camaraderie in the Army is second to none."
Graeme arrived at Sandhurst aged 27, after completing a degree in History at Queen's University Belfast and several years working in sales. A bit older than many of his fellow cadets, he admits he took a somewhat convoluted route to the Army.
"Back when I was at school I thought about joining the Royal Irish Regiment. But as is often the case when you go to a grammar school, you get swept along on the traditional route and so I continued my education at Queens," he continued.
"Most officers have degrees and it's stood me in good stead; there's a lot of studying and theoretical work at Sandhurst, with focus on War Studies, Defence and International Affairs and Communications and Behavioural Sciences.
"As well as the academic side, you've got to be extremely fit. If you're a bit out of shape when you join, you won't stay that way for long! As you'd expect, there's a lot of physical activity and practical work such as fieldcraft, rifle simulation training, live firing and at the end of each term, exercises out in the field for days at a time, designed to put all your theory into practice."
Before getting as far as the training though, there was an extensive application process.
"The application and selection process was tough, it took about a year between my initial application and being accepted. It started with meeting a Recruiter at Palace Barracks in Holywood, who answered all my queries and assessed my suitability for the role, before heading off to the Selection Board in Westbury for several days of testing, where they mainly looked for evidence of leadership and command skills. It was tough going but it has to be, they're looking for the best.
"It was my Dad who encouraged me to apply to the Army to become an officer so it was really special for him in particular to see my commissioning parade. My whole family have been supportive and I couldn't have done it without them."
As for the future, Graeme has a few ideas about the direction he's heading in. "I'll be moving to England where I'll start studying for my PGCE which means I'll be a qualified teacher. Then in October 2011, I'll go on my first tour of duty to Afghanistan," he said. "I'm really looking forward to it, it's what I've been training for. I know it'll be difficult being away from my loved ones but it's what I want to do.
"I'll be kept busy, my job will be to make sure the soldiers get their promotion courses done while they're out there with time on their hands, so that when they get home they'll have more time to spend with their family and friends."
Looking further forward, Graeme said he'd like to be a career soldier. "I've been commissioned for four years to begin with, and depending what I make of that time, I may be offered a longer commission.
"Hopefully I'll stay on and make my way up the ladder. The way I see it, the Army is offering me a good salary as well as opportunities for promotion, travel and adventure. Not only that, but I happen to really enjoy it too. What more could you ask?"
julieann.spence@ulsterstar.co.uk
Ulster Star
21/01/2011