Harry puts his best foot forward
Sale of motorbike helps get idea up and running for businessman
by MARY MAGEE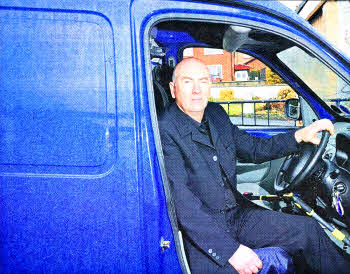 A car mechanic by trade, Harry Connor put his skills and experience to good use and has set up his own business after coming up with a product that solves an age-old dilemma.
A LOCAL mechanic is proof that you can achieve business success without any prior experience if you have a great idea and plenty of determination.
Harry Connor's business venture based at 57 Riverside Drive has thrived since he signed up for the Invest Northern Ireland Go For It despite a recession.
Harry has been running his own maintenance business for commercial vehicles for the past 12 years.
His business is based on a new device called the 'extra foot' that allows commercial owners to carry out regular safety checks to ensure that brake lights are operating properly.
Harry used the Internet to track down a Chinese company which was able to make a prototype for him. He ended up selling his motorbike to finance his first bulk order and the rest as they say is history.
"If you have a good business idea and you're prepared to work hard, then success is most certainly up for grabs," said Harry.
He came up with the idea after realising there are some things you just can't do on your own.
"Testing brake lights, particularly on larger commercial vehicles, trailers and caravans, was a mghtmare," said Harry. "After some serious thought, I came up with a portable solution that not only prevents all of that hassle but saves valuable time and money in the process."
A new website, with patent pending, and a steady stream of happy customers keen to endorse the product, Harry is confidently looking forward.
"Initial feedback has been excellent," said Harry. "We have had good success in the local market, providing several major transport companies, such as the UK Freight Transport Association, with our products."
Harry accepts there will be challenges ahead.
"Setting up your own business is no easy task," he said. "It challenges you in many ways and the work is hard. But I'm not someone who shirks away from that and I'm so glad I've taken my idea this far.
"There have been many challenges — getting through the patent process, sourcing manufacturers and suppliers, sorting out shipping, VAT registration and accounts were all tall tasks. Fortunately for me, I got great help.
"Signing up for the Go For It programme was the best thing I could have done," said Harry. "Their staff guided me through the whole process, backing me up with lots of practical advice and assistance where I needed it most.
"I would recommend it to anyone thinking about starting out on their own. A few hours out of your time to go on the programme could well be the best hours you spend - I know it was for me."
The Go for it Programme is provided by Invest Northern Ireland and is part financed by the European Regional Development Fund. For details, log on to www.goforitni.com.
Harry's website which was recently launched is https://www.theextrafoot.com/ContactUs.aspx
Ulster Star
11/02/2011