A trip through 'Be Aerospace' at Harry Ferguson lecture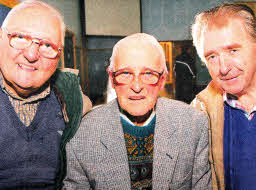 George Cromie, Cecil Murphy and Billy Armstrong at the annual Harry Ferguson lecture, at Hlllsborough. US4611-510cd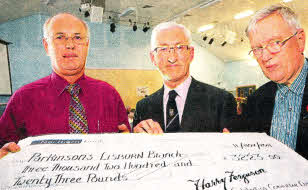 Harry Ferguson Celebration Committee members David Poots and Bill Forsythe handing over a cheque for £3,223 to Jim Henry, chairman of the Lisburn branch of the Parkinson's UK charity, during the annual Harry Ferguson lecture at Hillsborough. US4611-501cd
THE Harry Ferguson Celebration Committee has hosted the annual lecture night in Hillsborough Village Centre.
The guest speaker was Mr Kenny Cromie from Be Aerospace in Kilkeel, who opened his lecture by saying: "Take your seats for a trip through Be Aerospace."
Mr Cromie has been with the company for 30 years and his presentation on manufacturing aircraft seats for over 80% of worldwide airlines is indeed a credit to the Co Down company.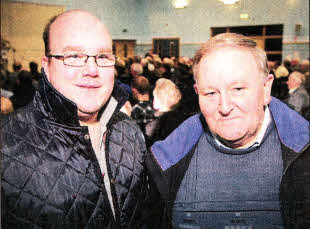 Andrew and Jim Dennison, from Dromara, at the annual Harry Ferguson lecture in Hillsborough. US4611.512cd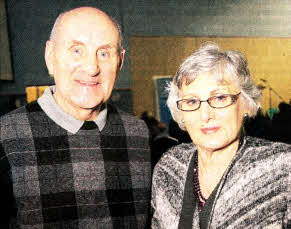 Lawrence and Mary Collingwood, Aghalee, at the annual Harry Ferguson lecture, Hillsborough. US4611-508cd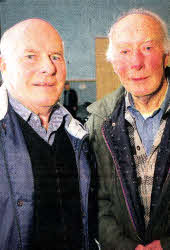 Patrick Matheson and Pat King, both from Dromara, at the annual Harry Ferguson lecture, Hillsborough. US4611-511cd
The Kilkeel factory has been in business since 1967 and the range of seating from the most basic to the first class and business class is a proud business to be involved with.
The 230 plus audience were amazed at what happens just up the road in Kilkeel and the village centre seating seemed a little basic at the end of the presentation.
The interval allowed the Ferguson Celebration committee to hand over a cheque to Parkinson's Society Lisburn Branch for the sum of £3223.00, proceeds from the August Homestead event.
The second half of the evening was about tractors and Mr Robert Kidd from Broughshane allowed the showing of some old archive Ferguson film. The first film was of the grey tractor ploughing and how handy and versatile it was and explained the cumbersome horse and plough days.
The second film was in colour and displayed the red Ferguson 100 series tractors including the 130 Massey which, in some collectors' eyes, seemingly was not the best in terms of reliability.
Lecture night ended at approximately 10.10pm and presentations to both speakers were made and the usual collection for Children in Need brought in a healthy sum of £631.40. Well done to all those who attended.
If you would like to on the lecture invitation list and be notified next year please contact Bill on 92692110.
Ulster Star
25/11/2011