Generous locals help fund another Hearing Dog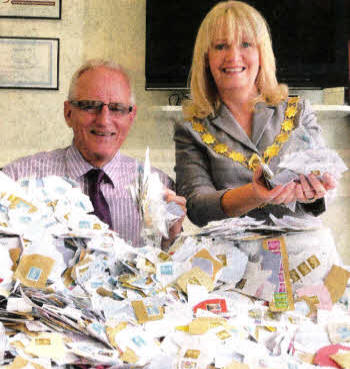 David Parkinson of Lisburn Hearing Centre and Debbie Roulston, current President of the Lagan Valley Rotary Club show off the amassed collection.
LISBURN Hearing Centre, in conjunction with the Rotary Club of Lagan Valley, have had another successful year collecting used stamps for The Hearing Dogs Charity and they would like to send a big 'thank you' to Star readers for all their efforts.
David Parkinson of Lisburn Hearing Centre and Debbie Roulston, the current President of the Lagan Valley Rotary Club recently gathered together the amassed collection of used stamps which were then passed onto the charity.
David commented: "We would both like to thank everyone who kindly gave in the stamps and our fellow Rotarians who helped organise the collection of stamps - sometimes just three used stamps, sometimes a carrier bag full.
"Keep them coming please — even the smallest donation is greatly appreciated."
This year David delivered six full black sacks to the Belfry near Birmingham where they were collected by by Sue, a volunteer from Hearing Dogs.
David continued: "After the stamps had been weighed Hearing Dogs told us that these sacks equate to approximately 150,000 Stamps. Amazing!
And would help towards the next dog just like 'Marti."
Sue stated: "We would like to take this opportunity on behalf of Hearing Dogs for Deaf People to wish you all a Merry Christmas and a Happy New Year and to thank you for your support in sending your used postage stamps to us in the past.
We would be very grateful if you could continue to send in stamps from Christmas cards etc. on a regular basis.
"With your help in 2010 we raised the fantastic sum of £11,563.93 through used postage stamps alone.
Hearing Dog 'Marti' is the sixth dog to be supported by funds raised from stamp recycling helping us to provide complete partnership support throughout Marti's whole working life. Marti is a cheeky Cocker Spaniel cross Poodle who lives with Janice. The previous dogs fully supported by stamps alone were Becks, Penny, Womble, Flynn and Woody."
For further information please visit www.hearingdogs.org.uk, www.laganvalleyrotary.org or www.lisburnhearingcentre.co.uk.
Ulster Star
30/12/2011