Discover Lisburn's lesser spotted heritage at history days
by JENNY MONROE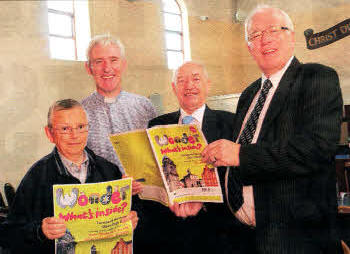 Pictured: Joe Lockhart - Christian Workers Union, Rev Sam Wright of Lisburn Cathedral, Alderman Jim Dillon - Chair Economic Development Committee and Alderman Allan Ewart.
TWO weekends of history are to be celebrated in Lisburn this month.
On Saturday September 10 properties across the city will open up as part of the European Heritage Open Days while on Saturday 17th the City Centre will take a step back to a time of fencing, frocks and revelry as the Georgian characters from Northern Period Productions and the Victorian ladies of War on Want provide an entertaining experience in the City Centre.
The special events are being organised by Lisburn City Centre Management and Lisburn Historic Quarter Arts Group.
Alderman Allan Ewart, Chair of the City Centre Management and Alderman Jim Dillon, Chairman of the council's Economic Development Committee visited the recently restored Lisburn Cathedral, Lisburn Christian Workers Union and the refurbished CR Lowrys Jewellers, each of which are taking part in the Open Days by inviting visitors to look around.
Mr. Ewart said: "This year there are ten Lisburn properties taking part in the European Heritage Open Day, on Saturday 10th September, all within easy walking distance of each other and the City Centre.
"Each of the buildings on the trail, like Lisburn Cathedral and The Christian Workers' Union, are sights most people who have visited Lisburn City Centre will know from the outside without ever actually have stepped inside."
Many properties across Northern Ireland will be opening for free as part of European Heritage Open Days (EHOD) on Saturday 10 and Sunday 11 September. Organised by the Northern Ireland Environment Agency (NIEA) this celebration is designed to encourage people of all ages to discover
Northern Ireland's rich and diverse architecture and heritage.
EHOD takes place every September in 49 countries across Europe. Last year over 56,500 people in Northern Ireland visited properties, many of which are closed to the public throughout the rest of the year.
Lisburn City Centre Management has produced a new Heritage guide and walking
trail for visitors to follow on their visit to the lesser spotted sights of the City's historic buildings.
These are available to pick up at Lisburn Tourist Information and Irish Linen Museum. Visit www.lisburnccm.co.uk to download a guide or to find out more information on events taking place during Heritage Month in Lisburn.
Ulster Star
09/09/2011