Family finally sees 'hidden treasure' of Cathedral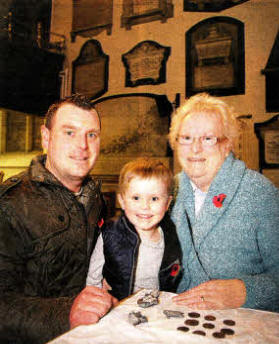 Greer Thompson, Kyle Thompson and Doreen Thompson with the coins- US4511• 530cd
DESCENDANTS of the man who created the weathervane at the top of Lisburn Cathedral in 1930, have been to the cathedral to see two coins which he put in the structure as a memento.
The coins were engraved by a local jeweller before Thomas John Hanna, a blacksmith based in Graham Gardens, completed the famous Lisburn landmark.
There was great excitement last year when, as part of a £1m refurbishment, the weathervane was taken down and current day parishioners waited to see what was inside.
And that excitement was shared by Mr Hanna's grand daughter Doreen Thompson, her son Greer and his son - and Mr Hanna's great great grandson, Kyle who had all been brought up with the story of the coins in the spire.
So there was great disappointment when it appeared the time capsule had been tampered with and the coins stolen sometime during the last 80 years. The mystery was how anyone could have got to the top of the building to commit the theft.
However, a few months ago a piece of lead that was found in the capsule and was thought to be a piece of soldering, was inspected more closely by a builder who decided to break it open.
To his amazement he found the missing coins which had been engraved by local jeweller, Frank Pettigrew, then located on Bow Street.
And last week Greer Thompson, Kyle Thompson and Doreen Thompson, great grandson, great great grandson and grand daughter respectively, of Mr Hanna, were able to see the coins.
The family were delighted to see the coins of which they had heard so much.
Doreen said: "We went to see the 'infamous' coins and words cannot explain how I felt when I looked at them and held them. My son Greer was all taken with them as I had told my children the story of them being in the Spire just the way my mother and father had told us. It was a delightful night - a night to remember."
Ulster Star
25/11/2011