Village Centre will be buzzing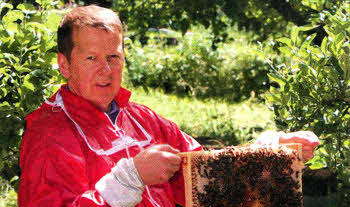 BBC presenter Bill Turnbull
HILLSBOROUGH: Saturday 5th November is a date for all beekeepers to note, and to attend the Annual INIB Conference and Honey Show, at the Village Centre in Hillsborough. It will be a unique opportunity to hear and meet two world renowned experts on beekeeping.
Professor Tom Seely from Cornell, University has spent over 30 years studying and researching honeybee behaviour, this has culminated in his three definitive books "Honeybee Ecology", The Wisdom of the hive", and "Honeybee Democracy" He has conducted research into how bees make collective decisions into choosing new nest sites, he has found feral colonies of bees with a stable host-parasite relationship with varroa, demonstrated the importance to colony disease resistance and honey production of queens mating with genetically diverse drones, evaluated the impact of plastic comb foundation on bee communication, and is currently investigating the value of small- cell combs as a non-chemical means of varroa mite control.
Dr Jamie Ellis is assistant professor at the University of Florida, he has worked extensively on sociobiology, honeybee pathology,' honeybee ecology and behaviour, nutrition and the sub-lethal effects of toxins on bees, also the genetic resistance of honeybees to pests/disease. His special interests are the small hive beetle and the varroa mite. Both Jamie and Tom will be delivering two lectures each.
As well as these lectures delegates can enter the annual honey show when this year the Guest Senior Honey Judge will be Robert Brewer, from the Georgia Young Harris Beekeeping Institute. In the past this show has attracted a big entry, and once again the trophies will be presented by INIB President and BBC presenter Bill Turnbull (above). The cost for the full day, including breakfast, lunch and refreshment is £25 to INIB members and £30 to non-members. Details can be obtained from Conference Secretary Lyndon Wortley 028 3884 1287
Ulster Star
21/10/2011