Honours List
CBE for Randox MD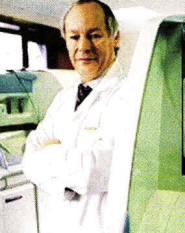 THE MANAGING Director of Crumlin company Randox Laboratories, Dr. Peter Fitzgerald said that he was honoured to be awarded a CBE for Services to Business in Northern Ireland in the New Years Honours list.
Dr. FitzGerald, who founded Randox Laboratories in 1982 said: "I feel extremely honoured to receive this award. It is a reflection of the dedication of all Randox employees and the life saving products we develop. We are committed to improving healthcare worldwide and we will continue to work hard and further our growth to maintain this achievement." Dr. Fitzgerald founded Randox almost 30 years ago with, he said, a desire to improve healthcare worldwide. Randox is now ranked as one of the leading clinical diagnostic companies in the world, with established offices in Europe, USA and the Far East.
Randox employs 850 people, selling products to over 130 countries worldwide and re-invests over £7 million into Research and Development each year. Their products utilise cutting edge technology and are of the highest quality set to revolutionise healthcare through continuously improving diagnostic solutions.
"Randox has continued to grow and recruit throughout the economic crisis, providing exciting career opportunities for individuals from all backgrounds," said Dr. Fitzgerald. "It provides opportunities within science based disciplines as well as sales and marketing, engineering,
logistics, human resources, finance, manufacturing, information technology and many more. The presentation of this CBE is testament to the dedication of the entire Randox workforce and is recognition of the life saving work the company performs." Although Randox has achieved so much since 1982, Dr. FitzGerald still has no intention of slowing down.
Randox has many new revolutionary products planned for release in 2011 that will make patient testing faster, simpler and more accurate.
Randox Laboratories Ltd. is a market leader within the in vitro diagnostics industry, manufacturing high quality diagnostic products for laboratories worldwide. It has extensive product portfolio which offers complete solutions within the fields of clinical chemistry, cardiology, forensic toxicology, veterinary, drug residues, life sciences, oncology, molecular diagnostics and internal and external quality control.
It aims to revolutionise healthcare through continuously improving diagnostic solutions' and continue to achieve this by re-investment in Research and Development. They say their innovative approach to diagnostics allows them to develop revolutionary products, specifically designed to provide more efficient, higher quality and reliable results.
Randox web site https://www.randox.com
---
MBE for Lisburn woman's service to the community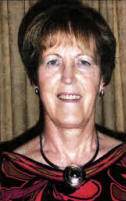 LISBURN lady Yvonne Hall has been awarded the MBE for service to the community in Northern Ireland.
Speaking about her honour Mrs. Hall said the Award was such a surprise.
A delighted Mrs. Hall said: "I feel humbled and grateful to all."
---
Man who fought back from horrific accident to help others honoured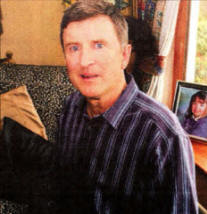 Ivor Jess who received an MBE in the New Years Honours list for services to Disability Sport in Northern Ireland. US0111- 103A0
A GLENAVY man who was been wheelchair bound after an horrific cycling accident 20 years ago has been awarded the MBE for services to Disability Sport in Northern Ireland.
Ivor Jess, a part time health and safety officer with Stoneyford Concrete, has raised over £100,000 for Disability Sport in Northern Ireland.
The keen sportsman is a member of the Knights Basketball team based at the Antrim Forum. He also founded the Freewheelers who run an annual charity cycle around Lough Neagh, the tennis wheelchair group Spokes in Motion based at Belfast Indoor Tennis Club at Ormeau and a skiing group in Craigavon - Ski Ability.
Ivor became wheelchair bound in 1991 at just 28. His nephew had been diagnosed with kidney problems and had a kidney removed and Ivor had got together with a few friends to organise a charity cycle run around Lough Neagh.
"However while training he was involved in a head on crash near the Down Royal and broke his back, robbing him of his ability to walk.
But he refused to allow his disability to get him down and instead channeled his energies into setting up wheelchair sports groups and raising money for Disability Sport in Northern Ireland.
"I was an electrician by trade but my wife Karen, who has been such an inspiration, was a keen sports person and I just thought I would take on the challenge of keeping taking part in sport" Ivor said.
"I never really looked back. I thought I would just continue on with my life in a positive way."
Unable to take part in the annual cycle that year Ivor has since taken part in a specially adapted wheelchair helping to raise thousands to help purchase sports wheelchairs. Determined not to allow his injuries prevent him taking part in the sports he loves Ivor went to the ski slope at Craigavon and persuaded the organisers to allow him to ski down it using a monoski. He later founded a disabled skiing group.
The Spokes in Motion tennis club he founded were ranked 19th in the world at one stage. He also set up a handcycle club in 1990s which met at the Antrim Forum.
"I have always liked to keep myself active and fit but I love to raise money for Disability Sport," he said.
"My inspiration has always been my wife and two girls Angelina (11) and Megan (9). "My family keep me strong and motivated.
"I think that sports helps disabled people get out of the sofa and gets them involved. It is good for your body and well being and it helps to get out for a bit of craic."
The money Ivor has helped to raise has bought sports wheelchairs, many of which help children take part in sport.
"The specially adapted wheelchairs cost about £2000. So if we raise a few thousand it does not take long before the money us used up" he explained.
"We also raise money through bag packing and other events."
Ivor said that he was honoured to receiving the award. "It is nice to get recognition," he said, "but I am still plain old Ivor Jess and that will not change. "
---
Hardworking Helen recognised in New Year's Honours list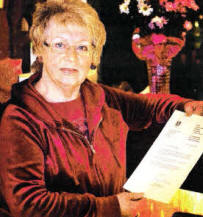 ONE of Dromore's hardest working and longest serving charity fundraisers and community activists has picked up an MBE in the New Year's Honours list.
No-one could argue that Mrs. Helen McFadden's honour is not well deserved; since her arrival in Dromore Helen has been the lynchpin of countless festivals and celebrations, raised huge amounts for a wide array of charities and good causes and launched or served on more local community groups than even she can remember.
But she is clear that ultimately it is the individual, rather than the group, that can make a difference.
"I like to help where help is needed," she said. "About 15 years ago I remember a pensioner was robbed of the money she had saved for a week's holiday in Newcastle. I put a wee box on the counter, made a donation and asked other people to do likewise; we got enough to send her on her holiday.
"So you don't have to be on a committee to help - if you see someone in need of help you just get on and help them."
Long a well-known local publican, alongside her late husband, at the Wellington House in Princes Street, Helen Gwendoline McFadden came to Dromore many years ago from her native Ardtanagh, near Dromara.
Struck by talk of heart attack victims dying before reaching hospital and aware of the practice in Dromara of local doctors having defibrillators, Helen approached Dromore's Dr. Patterson and confirmed he would be happy to have one.
So began the Dromore Cardiac Machine Fund, which quickly raised enough money for not one, but two defibrillators, and this year marks it's 40th birthday.
Before that, Helen raised money for the Cowan Heron Hospital and Skeagh House ,funding everything from tumble dryers and summer seats to chairs, rugs and standard lamps.
And since then she has raised cash for a range of charities, Banbridge's Doghouse Sanctuary, the Northern Ireland Hospice, Marie Curie, the Macmillan Nurses and the Diabetic Association to name but a few.
In the course of doing so she has probably engaged in every kind of fundraising activity imaginable, from the knitting of woolly hats to the hugely successful 'dare-to-bare' calendar of recent years.
Likewise she has thrown herself into community life, organising over the years an astonishing variety of events and festivals and lending her experience at one point or another to an equally impressive range of voluntary/ community groups.
Groups she has served on, even helped to set up in some cases, include, of course, the Dromore Cardiac Machine Fund, the Dromore Community Charity Events Committee, Dromore In Bloom, the Dromore Surgery Equipment Fund Committee, Dromore Chamber of Commerce, Dromore Partnership, the Autumn Leaves Social Club, Dromore In Action (and its predecessors). She is currently chairperson of a recently launched group - Doing It For Dromore.
"I've done my best for Dromore since I came to live in it," she said, insisting that her MBE for service to the community was as much an honour for that same community as it was for her. "If I didn't have the backing of the people in Dromore I couldn't do what I do, so I think this MBE is a great honour for them all."
---
MBE for Primary Principal as he prepares for retirement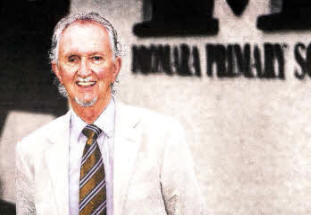 AFTER 41 years as principal of Dromara Primary School, Stanley Poots retires later this year and what more fitting way to round off a lifetime of service to education than with an MBE, conferred in the New Year's Honours List in recognition of that service. Robert Stanley Poots (66) was born in Dromore and attended the local primary school, where he would go on to teach before making a defining move to neighbouring Dromara.
Indeed, among the young Mr. Poots' early P7 pupils as a student teacher was one Jim Cochrane, now, of course, principal of that self-same Dromore Central Primary School. Further educated at Banbridge Academy and Stranmillis, where he indulged a love of sport that remains an abiding passion to this day, Stanley took up his first teaching appointment at Dromore Central at a time when Mr. Fred McCarroll was headmaster.
His Dromore roots were acknowledged by a town councilor, Ulster Unionist Carol Black, who offered her congratulations on Mr. Poots' honour.
"Work, such as Stanley's, in education is something that needs to be cherished at the minute," she said.
"Stanley served many years right here in Dromore at the Primary School before going to Dromara."
Mr. Poots said, "I had five very happy years at Dromore. Then I was encouraged to apply to a wee school in Dromara; I didn't know much about Dromara but I thought I would stay a while before moving on."
That was in 1970 and a little over four decades later Stanley Poots, his wife Joyce and family are an integral part of the fabric of Dromara, key and active figures in the wider community.
"I got involved in local sport," said Stanley, almost as if no further explanation was necessary, but he added, "My wife became involved with a local factory, Elizabeth Alexandra, where she was design director for more than 20 years.
"I got involved in the town committee and establishing cross-community football for young people."
Along the way, Stanley and Joyce had four sons, opting to stay in Dromara to put them through school but each passing year saw them more and more entrenched in village life, so much so, in fact, that having applied for a position at Lurgan's Model School, Stanley rethought the planned move and decided to stay at Dromara Primary.
"I set about trying to develop the school here," he said, "primarily in terms of sports facilities."
Mr. Poots campaign would go on to raise more than £1m for a new sports complex to benefit both the primary school and the wider community.
The local principal's goal was to bring school and community closer together.
Though not an integrated school, Dromara Primary, he said, was nevertheless very much integrated in terms of religious denomination and otherwise.
"That's very pleasing to me," he said. "Over the years I tried to teach the kids to play and work together and in recent years I have spent a lot of time working with older kids." That work, he said, had been very much a two-way exchange.
Developing strong links drove Stanley in other areas too, not least during his time as president of the Ulster Teachers Union.
He brought together the UTU and the Irish National Teachers' Organisation, who formed a joint board and now meet jointly in a lasting legacy of Stanley's presidency.
"It was interesting when I looked into it," he said, "to find that my first principal, Fred McCarroll, had also been UTU president and also wanted to bring the two organisations together, around the 1960s, but didn't quite manage it at the time."
With 41 years at Dromara Primary, Mr. Poots may well be the longest principal in post and can contentedly claim to have enjoyed "every single day" of it.
"I've always enjoyed teaching," he said. "I've felt enthusiastic right throughout my career. "Every single morning I have a 'meet and greet' for all the four and five-year-olds, when I speak to them all individually; I enjoy that as much today as I ever did."
So what then does Stanley make of his MBE? "I was a bit shocked when I heard," he said. "I had no inkling about it from anyone, no idea at all of that sort of thing being suggested. "From the point of view of my work in education, I did whatever I could from a school point of view, from a union point of view and from a bringing people together point of view.
"I'm happy if someone, somewhere thinks that has been worthwhile.
"It's something I never would have looked for, but it is nice, at the end of my career."
---
MBE for Hillsborough pharmacist
ANOTHER local man was also recognised in the New Years Honours.
Mr. Joshua Kerr from Hillsborough received an MBE for services to pharmacy in Northern Ireland.
Ulster Star
07/01/2011