£2m hotel extension brings 20 new jobs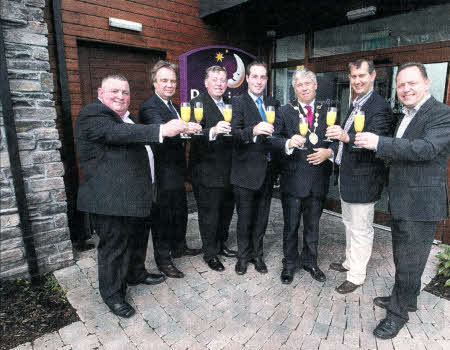 Celebrating the extension of Premier Inn Lisburn (L-R), Keith Freeman, Regional Operations Manager, Whitbread; Trevor Simpson, Director, Conway Group; Cllr Paul Porter; MLA Paul Givan; Cllr Brian Heading, Mayor of Lisburn; Edwin Poots MLA; and Andrew Orr, Manager of Premier Inn, Lisburn
A £2 Million extension to Lisburn's first hotel is expected to be finished by December and create 20 new jobs. Planning permission for the extension to the Premier Inn on the Old Hillsborough Road, will mean an additional 30 bedrooms.
Premier Inn Lisburn, which was developed by Magherafelt based Conway Group and operated by the UK's largest hotel group, Whitbread PLC, opened in September 2009. The opening of the hotel marked a £10m investment by the Conway Group, and saw the creation of 60 full and part time jobs in the City.
Lagan Valley MLA and Health Minister Edwin Poots said: "These are exciting times for Lisburn. The opening of the hotel marked a new phase on the commercial development of the city. The fact that it is proving to be so successful that it is being extended after just two years is great news."
Brian Heading, the Mayor of Lisburn also expressed his delight at the development: "This is further evidence of the growth of Lisburn, he said.
"The new extension will help to boost the local economy and increase our visitor numbers.
Trevor Simpson of Conway Group said: "We are delighted planning permission has come through and we can get to work. We expect to have the extension finished by Christmas. We are very pleased to have had the consistent support of Minister Poots and Lisburn City Council for the project. It is great news for Lisburn, creating new jobs and encouraging more visitors."
Andy Orr, Manager of Premier Inn Lisburn added: "We've already had 55,000 visitors to the hotel in the two years we have been open. Once the extension is complete we look forward to welcoming many more."
Keith Freeman, Regional Manager for Premier Inn Northern Ireland added: "The Premier Inn story in Northern Ireland is one of continued growth and success. We now have six hotels and we have further plans for expansion."
Ulster Star
22/07/2011