Ian hangs up his chef's hat for the last time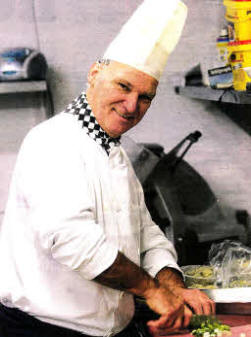 Ian Hicklin who is retiring this week. US4611-174A0
THE HEAD chef at the Beechlawn Hotel has hung up his chef's hat for the last time as he retires from the hotel after 46 years.
Ian Hicklin from Ballymacash, who turns 65 on Saturday, is keen to do a little decorating around his home and also wants as he says, to 'climb into the roofspace while I still can.'
His last day at the Beechlawn was Thursday and now he plans to celebrate his birthday with a well deserved week long holiday to Spain.
Ian started working in the kitchens of the Grand Central in Belfast at the age of 15. It was the only five star hotel in Belfast at that time. He also worked at the Russell Court on the Lisburn road and the Mandello in North Street in Belfast.
He did a number of summer seasons at the fondly remembered Queens Court Hotel in Bangor where he met many cabaret and showband stars such as Engelbert Humperdink and the band Dave Dee Dozy Beaky Mick and Tich
'A lot of the stars would have come through the kitchens before they went onto stage so I got to meet a lot that way," Ian recalled.
But it was at the Beechlawn Hotel that he has served as chef the longest.
"When I first started there, there weren't as many people going out to dine," he said. "It had to be a special occasion for people to go out but now it is just a way of life for people to go out for something to eat.
"People are not afraid to venture into Belfast but it was quite a different story in the past. A lot of people tried to avoid going into Belfast and the Beechlawn became very popular" he said.
And in spite of changing fashions, Ian believes that people's tastes have remained basically the same as they were 40 years ago.
"People still like things they know such as steak and chicken dishes," he said. "However, one noticeable change is that there are still a lot more people eating fish now."
Out of the many weddings Ian has cooked for, one stands out because he had one of the most unusual requests he has ever come across - goat as the main dish.
"It was the first time I had cooked it but that was not the problem - it was getting it. I had to get it imported from England. I'm glad to say it went down well."
Ian says that he just wants to leave quietly without a fuss.
"I just want to go out quietly," he said. "Like all chefs I work a lot of hours so it will be strange not to be going out to work any more.
"I will miss the company at work of course, but I will still enjoy cooking. That will never leave me."
Ulster Star
18/11/2011