Daughter speaks of carer mistreatment `horror'
by JULIE-ANN SPENCE
THE daughter of an elderly woman has spoken of her horror at discovering her mother's trusted carer was eating the food the family had prepared for her. Patricia Young, 54, from Mandeville Avenue in Lisburn appeared in court on Friday in connection with the ill treatment of Ivy McCluskey.
Young, who pleaded guilty to two charges of "guardian ill-treating a mental patient", will be sentenced on 22 February.
She had been employed by the South Eastern Trust through an agency and cared for Mrs. McCluskey, who had Alzheimer's Disease, for over four years.
Mrs. McCluskey's daughters, Mandy and Diane, had become increasingly concerned about their mother's weight loss end installed a camera to film the carer at work.
When they saw footage of Young eating their mother's food, Mandy said she ran screaming from the house.
"I spent three hours setting up a friend's camcorder in a flowerpot in the room," explained Mandy. "I met my sister back at the house and watched the footage. When we discovered the horror of what was happening. I ran from the house screaming. There are no words for how we felt.
"We decided to keep the camera and she came back for the evening shift and decided we needed more footage and installed a web cam. I had to work with the woman the next day.
"As soon as I saw the footage I contacted the care manager." This has been a very difficult time for Mandy and her family, especially after losing their mother in October 2009. twelve weeks after the video footage was recorded.
Video footage of Patricia Young (various different shots)
The entire family have struggled to come to terms with what has happened.
"We thought if we got a guilty plea in court that would help, but every time I think of mummy this hits me. Everything was focused around mummy's house but this woman has tainted all of our memories. There was nothing mummy could do to reach out or help herself.
It was a cruel, cruel act on someone so frail. She was so blatant about it and that is what we struggle with the most."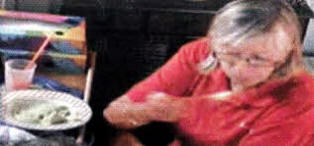 Mandy is grateful for the support of Anne Blake and Valerie Martin from the Lisburn Carers Forum. "I don't know if we would be where we are today if it wasn't for Anne and Valerie," she said.
A spokesperson for the South Eastern Health and Social Care Trust apologised for the "unacceptable standard of care provided to Mrs. McCluskey". She went on to say: "As soon as the Trust became aware of the problems, it took immediate steps to ensure Mrs. McCluskey's safety and the Trust advised the employer to refer the staff member to the Independent Safeguarding Authority (ISA) and the Northern Ireland Social Care Council (NISCC) and refer the case to RQIA.
"The South Eastern Health and Social Care Trust would like to reassure older people receiving care services that the majority of Domiciliary Care Workers are 100% committed to providing a high standard of care as evidenced during the recent severe weather conditions and there are stringent policies and procedures in place to protect vulnerable people and that domiciliary care providers are tightly regulated by RQIA."
julieann.spence@ulsterstar.co.uk
Ulster Star
28/01/2011