Caravan pump design is a hit for Lisburn man
by JENNY MONROE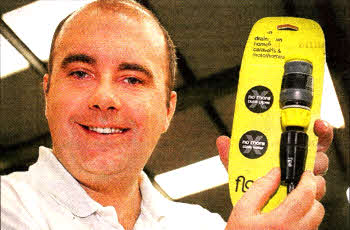 Jason Paul with his device.
A PUMP system designed by a Lisburn man has received rave reviews across the UK and Europe and even been named caravan accessory of the year.
Jason Paul is the man behind Apt Innovations who specialise in products for homes, holiday homes, motor homes and caravans and he is delighted at the attention his business is receiving.
And their best seller is the new floe system, which is a pump that enables you to drain down your own property when you are putting it away for the winter.
Jason explained how the idea for Floe came about: "My wife and I have a static caravan and we were caught out with a disastrous burst pipe flooding incident in 2009. I wanted to be able drain down the caravan in a easy inexpensive way that didn't involve paying anyone else and still allow us to use the caravan through the winter, draining it before we left.
"I wanted to be able to drain down the caravan at the end of the season myself and not have to pay someone to do it, and also to be able to reintroduce water so I could use the van through the winter," explained Jason.
"The current method is totally antiquated. While the concept of getting air into water is not new, we've invented a way water can be drained out of the system in the natural flow of water."
With the help of a family friend, he developed a basic tap adaptor and hose attachment that allowed him to pump air into the water system and build up enough pressure to force any remaining water out of pipes. In order to turn his bright idea into a business he managed to secure Invest NI funding for a patent, and then an American company based in San Diego agreed to make the prototype models.
After two years of late nights and long meetings Floe was ready for the market in 2011.
Jason said: "It can be tough, juggling your commitments, but so rewarding in the end. There are so many days you just think you're wasting your time, but perseverance is key.
Within one month of launch through the Caravan Club, Floe was in the hands of hundreds of happy customers throughout the UK and Ireland and is growing exponentially every day. It has been field tested by the National Caravan Council (NCC), Water Regulations Advisory Scheme (WRAS), the Caravan Club and the Camping and Caravan Club, all with 100% success. Jason strives to improve the company's products to eradicate frozen pipe damage completely.
Now they have five kits suitable to cover most applications, home and leisure. The product - which retails from £24 - has received rave reviews from caravanning magazines, the National Caravan Council and the influential Caravan Club, the voice of 600,000 touring caravan and motor home enthusiasts.
Further information can be found at www.drainmyproperty.com.
Ulster Star
28/10/2011