Lisburn hearing dog Jester claims runner-up prize at national awards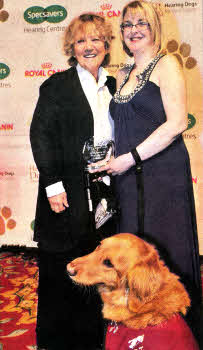 Samantha and Jester with actress Julia Foster who presented her award.
A SPECIALLY-trained hearing dog from Lisburn claimed the runners-up accolade at a prestigious national event highlighting the work of hearing dogs across the UK.
Jester — a Golden Mongrel — landed the accolade in the Heroic Hearing Dog of the Year category at the awards in Central London.
Jester is the hearing dog of 39 year-old Samantha Maxwell and was made a finalist for the award after alerting rail staff on a Lisburn-bound train that Samantha had been stung by a wasp suffering a severe reaction.
Samantha said: At the hospital, the doctors were amazed by Jester's response, particularly as Jester had not been trained for a situation such as this.
"Before I had Jester, I had low self-esteem and my confidence and independence had gone.
Since he arrived, I knew he would be the one to sort me out.
He is such a clever dog and I am so proud to have him in my life."
The awards, which were supported by Specsavers Hearing Centres and Royal Canin, are coordinated by the national charity Hearing Dogs for Deaf People and have been held annually since the inaugural event took place in 2003.
A celebrity judging panel of One Show presenter Matt Baker, EastEnders actress Pam St Clement and TV vet Marc Abraham chose this year's finalists.
It was a particularly memorable evening with many other famous faces including Esther Rantzen, Julia Foster, Rebecca Wilcox, David Bellamy, Luther Blissett, Tim Vincent, Meg Mathews, Rita Simons, Martin Roberts and Strictly Come Dancing's Anton du Beke and Erin Boag attending the event.
Hearing Dogs for Deaf People — which celebrates its 30th anniversary next year — train dogs to alert deaf people to specific household sounds and danger signals, whether in the home, workplace or in public buildings.
These sounds include the smoke alarm, doorbell, cooker timer, mobile phone and alarm clock.
Hearing dogs also wear distinctive burgundy jackets when out in public as a clear indicator of their recipient's otherwise largely invisible disability.
For more information on the Hearing Dogs Awards 2011 and Hearing Dogs for Deaf People, go to: www.hearingdogs.org.uk
Ulster Star
04/11/2011