Talented footballer who opted instead for life on the farm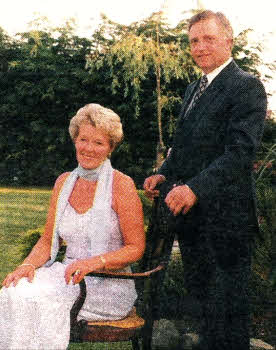 Jim Yarr and his wife Patricia
LIFE could have been so different for dairy farmer Richard James Allen Yarr (Jim), who has died at 70, if he had followed his boyhood dream.
As a 16-year-old talented full-back he signed for Linfield in the Irish League and soon became a magnet for cross-Channel scouts including one from Manchester United.
But his father Richard senior passed away at only 56 in 1961 and Jim at 19 turned his back on a career on the soccer field to take over the family farm Oakleigh in Roses Lane Ends.
Jim never regretted his decision and continued to play his football as an amateur at Windsor Park and with Churches. League team Ballinderry when he had the time away from the milking and tending his animals.
His brother Robert explained: "Even though Jim had been described by football writers as one of the Irish League's most promising young players he was happy to become a farmer instead of a sports star. "He loved farming right from the time as boys he and I had the daily chore of milking two cows each before we left for school in the morning".
"He never talked about what might have been and became a familiar sight on his tractor or herding his cows down on the farm. It was obvious to everyone who knew him and his family that he enjoyed his life in the open air.
"Mind you he never lost his love of football and even turned out in summer five-a-sides when farming allowed him."
Jim has survived by his wife Patricia for 46 years and his two sons Richard, a producer at the BBC and manufacturer's agent Allen. Richard is organist at Christ Church, in Lisburn and Allen is organist in St Colman's at Dunmurry while their uncle Robert has been senior organist in Ballinderry Parish Church for 50 years.
Although he was desperately ill he managed to attend his son Allen's wedding in a wheelchair last month when Allen walked down the aisle of Ballinderry Parish Church with his bride Dr. Carolyn Hunter.
Tributes were paid to him at a funeral service in Ballinderry church by the rector Canon Ernest Harris, the Rev Paul Dundas, rector of Christ Church and the Rev Denise Acheson, rector of St Colman's as well as by Dr. Bert Tosh, senior religious affairs producer at the BBC.
Ulster Star
26/08/2011