Football legend Mcllroy 'honoured and embarrassed'
by New Year MBE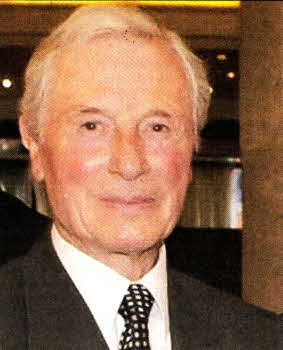 NORTHERN Ireland footballing legend Jimmy Mcilroy said he was both "honoured and embarrassed" to be awarded an MBE for his services to Football and Charity in the New Year's Honours list.
The Lambeg man is widely regarded as Burnley FC's finest ever player, having made 497 appearances and scored 131 goals in his 12 years with the club, and is held with such esteem by the club and its fans that a stand at their Turf Moor stadium was named in his honour.
Jimmy, who joined Burnley as an 18-yearold from Glentoran, has also received the Freedom of the Borough of Burnley from his adopted home town and the naming of Mcllroy Park in his honour in Lisburn, whilst 2009 saw his testimonial year begin, and he can now add the Royal seal of approval to his list of honours.
Despite this, the modest local man, who still calls Ballyskeagh "home", said he was embarrassed at what his former teammates would think of the award.
"This came completely out of the blue," he said. "I understand a number of people over a few years, some in Ireland, have been campaigning for me to get some sort of honour, it's because of their campaigning that I have received it.
"Of course, I'm delighted," Jimmy added, but I am also embarrassed. The Burnley team was full of top class players and I imagine them thinking to themselves 'What's he got that for?'
"I've come to the conclusion I'm a better player now than I was 50 or 60 years ago," he joked.
Jimmy represented Northern Ireland on 55 occasions, scoring 10 goals, and helping his country reach the quarter finals of the 1958 World Cup.
The 79-year-old, who still lives in Burnley, was also a key member of the Clarets' 1959 /60 First Division winning team and also played for Burnley in the 1962 FA Cup Final, whilst also helping Stoke City to secure promotion to the First Division by winning the Second Division league title in 1963.
Jimmy, who was also honoured for his services to charity, has had his own charity shield named after him, which has been contested by a Burnley supporters representative side and rival fans groups. As well as this he also supports the hospice in Burnley and Shimna Valley Holiday House in Newcastle.
Jimmy continued: "I've had a stand named after me at Turf Moor and the fans voted me the greatest Burnley player of all time - with honours like this you would think Burnley were a one man team, but I played with some outstanding players.
"I also received the Freedom of the Borough, so I can now drive a flock of sheep through Burnley centre without breaking the law - it's crazy. And, of course, there's McIlroy Park in Ballyskeagh so I'm a landowner!"
Referring to his love of his adopted home town, Jimmy said: "Danny Blanchflower, who was a great player, was in Burnley and we were playing one dark, damp, miserable Saturday afternoon in November, and supporters were coming up in their thousands with their hats and coats on and he said to me, 'How the blazes can you live in a place like this?' Yet from the moment I arrived I've felt at home, it is the perfect size coming from a tiny village like Ballyskeagh. Within a year I felt like I knew everyone in the town."
Jimmy said his phone "never stopped ringing" the day the announcement was made of his MBE.
The modest local man continued: "Since I've finished playing I've been invited to make a presentation at Turf Moor. It happens once a year and I go out into the middle of the field and the reception I get is unbelievable, I've actually felt embarrassed with the noise," he said. "Two thirds of the people weren't old enough to see me play, they know about me from what they've heard from their parents or grandparents."
Congratulating Jimmy on his achievement, Alderman Ivan Davis said he was 'totally delighted' for the local man.
Mr. Davis added: "In April of last year, along with other Council colleagues, I had the privilege of attending his testimonial dinner in Burnley, where Sir Michael Parkinson was the guest speaker. Jimmy is held in very high esteem, and his service to Northern Ireland Football speaks for itself, and the fact that we have the McIlroy Park situated in our city area shows the esteem with which he is held in the place of his birth."
Ulster Star
07/01/2011