Moira author tells her French adventure in book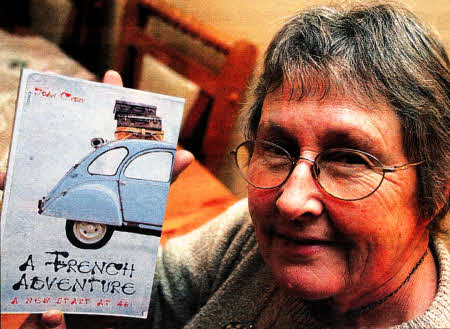 Joan Crory's account of her time, A French Adventure', is now on sale at Easons and in Faith Mission bookshop.
A MOIRA woman who spent time in France helping her husband build a Baptist church has told her story in a new book.
Joan Crory and her husband George, who was a Baptist Pastor before retiring, spent nine years in Central France where they overcame the language barrier to befriend the local community and plant a Church which is still thriving today.
Joan explained: "This book - 'A French Adventure' - is a personal story of nine years in France with Baptist Missions, trying to plant an Evangelical Church.'
The couple were in France from 1985 to 1994 and Joan explained their journey started when a young man they knew returned home while working in the country.
We saw him when he came home to visit and he was very tired and we felt that God was saying to us to go and help him out, so we applied to the Baptist Missions."
Joan said the move to France, which meant leaving behind their two daughters Pauline and Fiona and their son Peter, had been difficult for the whole family.
Our younger daughter was 17 when we left and because we were living in a Manse, they had to find a new home, so it was hard for them," she said.
"We were in a small place called Trevoux, and set about planting an Evangelical Church in Neuville.
"In a lot of towns in France there is no Evangelical place to worship at all. The brief was to plant a little Church there and we did, it's still there and still going, which is great."
Joan's journey in France wasn't all plain sailing, however, and she and George found the language barrier quite difficult to cross.
"The biggest headache was the language" she explained..
"We went to language school in Paris for nine months before we arrived in the town. We went to a small village where we didn't know a soul and we used to invite our neighbours in one by one to get to know them, which; in France is very unusual. Here we are very welcoming, but in France they are different with people they don't know, so it was quite unusual to invite strangers into your home."
Joan concluded, "This book is my personal account of what it was like to be there and start something from nothing."
Ulster Star
21/01/2011