Action Cancer ambassador shares remarkable story
Mother and daughter both beat breast cancer with sheer determination
by MARY MAGEE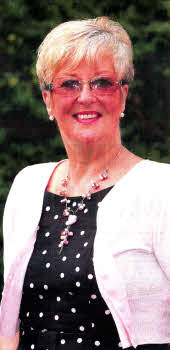 Joan Laughlin
A LISBURN woman has revealed how she beat breast cancer twice in one year with the help of her mother.
Joan Laughlin (69) got help from her own mother who at the age of 78 also had breast cancer - and with sheer will and determination they both survived to tell their remarkable story. Action Cancer is marking Breast Cancer Awareness Month, BCAM, with campaign partner Gordons Chemists, by encouraging women in Lisburn to come forward for a breast screening.
Throughout October, women within Action Cancer's screening age range (40-49 and over 70), falling outside the NHS age range (50 to 70), are being urged to contact Action Cancer directly or to call in to their local Gordons Chemists store and complete a breast screening request form.
Joan first discovered a lump on her breast a month after her 40th birthday. When she went to her GP he referred her to the hospital where she underwent a fine needle aspiration and given the all clear.
"I was to attend the Royal Victoria Hospital with breast cysts for the next ten years," she said. "Each time was as frightening as the last and I had many scares," explained Joan.
"Six years later, I discovered what I thought was another cyst. As it was close to Christmas I had difficulty getting a breast screening appointment but when I mentioned my history of cysts and that my mother had a mastectomy at the age of 78, Action Cancer made me an appointment for the Monday morning."
The next morning Jean was given the devastating news that something had shown up in her left breast.
"I had a biopsy and one week later I was told I had breast cancer and needed a mastectomy," she said.
"I was frightened and numb with shock but the fact that my mother had gone through this surgery helped as I then knew what to expect."
After the surgery she returned to work.
"If my mother was able to bounce back at 78 then so could I," said Joan. "She was my role model. To make me feel more confident I wore mastectomy bras for my prosthesis as I didn't like the feel of the silicone next to my skin.
"During a routine check up a mammogram showed something on my right breast and I knew that I would be back for my second mastectomy
"To face breast cancer twice in one year was difficult, but I got through it."
To help her relax she went with her mum to Action Cancer for reflexology.
"We got so much from those treatments," she said. "I attended for my checkups over the next six years and then in 2006 I was back in hospital. A little pucker had appeared in tissue below my right surgery scar. It was removed and this time I had chemo and radiotherapy.
"The hair eyebrows and lashes all disappeared within 19 days of the first treatment, but with my wig and full make up I still carried on.
"I am just so glad that Action Cancer gave me the time for a mammogram. Their work is so important and my story shows the importance of early detection. Don't hesitate if you're worried. Seek help immediately."
Anyone interested in obtaining an appointment should contact Action Cancer on 028 9080 3344, visit www.actioncancer.org or call in to your local Gordons Chemists and fill out a breast screening request form. Action Cancer's new breast check guides are available from Action Cancer House, Belfast, on the Big Bus mobile unit, in store at Action Cancer shops or at Gordons Chemists.
For further information contact Action Cancer House, 1 Marlborough Park, Belfast, BT9 6XS.They can be contacted on 0289080 3344 or email them info@actioncancer.org. You can view their website www.actioncancer.org
Ulster Star
28/10/2011