Best year yet from ace John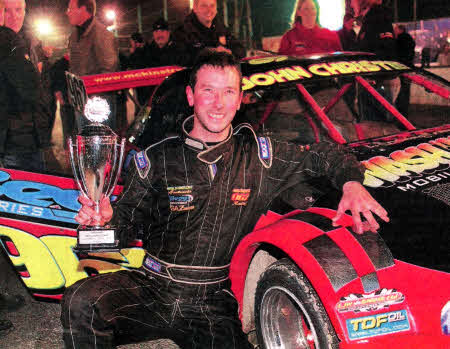 John Christie - best year ever in hot rod racing - now he wants to win the World Championships.
Hot rod racer John Christie is reflecting on one of his most successful years in the sport.
The 28-year-old Crumlin man, who now lives in Ballinderry, has been racing for 14 years but enjoyed some fantastic results over the past 12 months.
Racing in the National Hot Rod Class John won the Northern Ireland Points Championship which is run over 16 events at both the Nutts Corner Raceway and Ballymena Raceway.
The top five drivers qualify for the World Championships which are held in 1pswich where John scooped the Thunder 500 Championships.
More recently he won the European Championship, an event held in Rosegreen, Tipperary in October with drivers from Southern Ireland, England and Scotland. He also came second in the National Championship, an event held in Hednesford, Staffs in August with drivers from Southern Ireland, England, Scotland and the Netherlands) and third in the British Open Championship (an event held in Ballymena in September with drivers from Southern Ireland, England and Scotland).
John attended the Autosport International Show at the NEC in Birmingham earlier this month where he was presented with the awards for Most Entertaining Driver, NI Driver of the Year and the Overall International Driver of the Year. He also won the Ballymena Raceway Driver of the Year at the New Years Day meeting.
National Hot Rods, along with other Stock Car classes, are popular in NI, Southern Ireland and England/Scotland and receive limited TV coverage however the class John races in is costly (costing approx. £30-40K plus upkeep/tyres etc.) and he has some loyal sponsors and fans who have supported his racing for many years.
"I have enjoyed perhaps the best year so far since racing," said John. "I hope I can continue that form next season and the big target now it the World Championships. I finished third in 2007 but really want to go all the way.
"It's not just all down to me and I have to praise my race team of Adrian, Jim, Kieran, Colin and Rabb for all their support. Also to my local sponsors TDF Oils, Fergal Wilkinson Contracts and AC Autos for all their help."
Ulster Star
28/01/2011