John Lewis developers 'committed' as process starts again
by JULIE-ANN SPENCE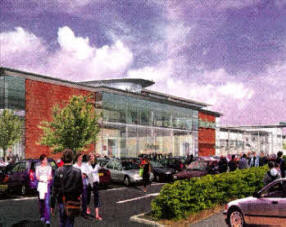 THE DoE will make another attempt to get the public inquiry into the beleaguered planning application for a John Lewis store at Sprucefield underway in the next few weeks when they place an advertisement inviting comments on the possible environmental impact.
But despite the delays, Lagan Valley MLA Paul Givan says he is convinced developers Westfield remain committed to the scheme.
The planning application for the multi-million pound development has suffered delay after delay, with the public inquiry being postponed several times.
The latest blow came when objectors sought a judicial review over the environmental impact of the scheme, raising concerns about the affect on wildlife in the area and whether the planners had taken those concerns into account.
The court proceedings were halted after the Department agreed to carry out the process again and the public inquiry was postponed.
And this week another major public inquiry into plans for an extension to the Ards Shopping Centre and another development in the town was also put off after problems over an environmental statement.
Mr Givan said he now understood the planning application would be advertised yet again in local newspapers in the coming weeks in connection with the submission of the environmental impact report. "I believe the Planning Service has taken legal advice on the back of the most recent court case and that advice was to do with the environmental report" he said.
"The process then is that once advertised the developer will submit the environmental impact report, which will be consulted on by relevant agencies, in particular the Northern Ireland Environment Agency."
Mr. Givan said it was also his understanding that a new public inquiry was being considered for May and he urged the objectors to the scheme to allow it to finally take place and allow everyone to put their case.
"1 hope this will be the end of the legal challenges," continued Mr. Givan. If there are genuine reasons to object then the public inquiry is the platform on which to put those objections forward, rather than using the court system.
I appeal to those objectors who have been using the legal process to allow the public inquiry to take place.
"The indications are that once this environmental impact information has been submitted that a public enquiry will be provisionally scheduled for around May time."
Mr. Givan concluded: "The applicant has given assurances that they remain committed to the development at Sprucefield."
julieann.spence@ulsterstar.co.uk
Ulster Star
28/01/2011