St Paul's parishioners take to streets
to raise money for Kenyan water pump
by JULIE-ANN SPENCE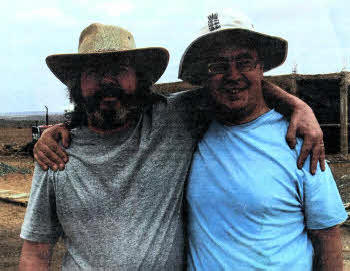 Chris Orr and Mark Jamison at the Maasai Girls School in Kenya.
PARISHIONERS from St Paul's in Lisburn will be taking to the city streets on Saturday to raise money for a much needed water pump in Kenya.
Organised by Chris Orr, a sponsored well push will begin at St Paul's Parish Church at 9am before proceeding into the city centre via Longstone Street and Chapel Hill.
The well push comes after a highly successful auction night held in November, which raised over £2,500 for the 'water pump project'.
The 'push' is being organised after 25 parishioners from St Paul's visited Kajiado in Kenya, a diocese which St Paul's enjoys a very vibrant partnership.
Within Kajiado the church operates a number of water projects which allow it to provide educational and health services, as well as spiritual work.
The installation of a water pump will be an important community resource, providing clean water which would be used by more than 200 families - many of whom currently walk many miles to their nearest water hole.
The pump will be constructed next to the new Oloosuyian Maasai Girls School at which the team helped to build the first classroom during their visit.
The overall cost of the pump is £10,000. almost £6,000 of which has already been raised by the Church Mission Society Ireland (CMSI), including money from St Paul's own Kenya Fund.
The additional £1,500 required to complete this project will also enable a pump house to be built, using funds raised in memory of the late Mabel Jamison, whose son Mark is aiding Chris in his efforts.
The 'Well Push' leaves St Paul's Church on Saturday morning at 9am and any donations will be most welcome.
julieann.spence@ulsterstarco.uk
Ulster Star
14/01/2011