Shoppers sign up to support Knockmore Primary School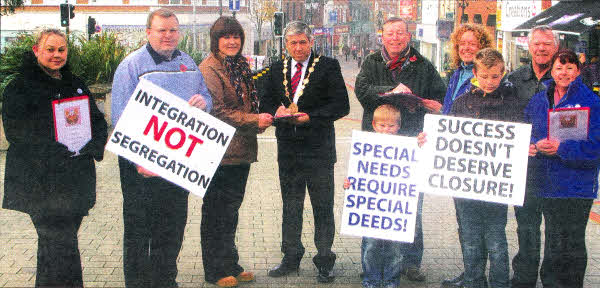 Parents and children from Knockmore Primary school were joined by the Mayor of Lisburn Cllr Brian Heading, Ald Paul Porter and Cllr Jonathan Craig MLA as they asked shoppers to sign their petition to save Knockmore Primary School.
LAST weekend parents and children from Knockmore Primary were joined by local politicians as they asked shoppers to sign their petition to save the school from the threat of closure.
The Mayor, Councillor Brian Heading, Alderman Paul Porter and Councillor Jonathan Craig lent their support to the group who have worked tirelessly since the school came under threat last month.
Gemma Hamilton, a parent of a child who attends Knockmore, said: "I would like to thank the hundreds of shoppers in Lisburn who signed our petition. Walking the streets of our City Centre on Saturday we received great encouragement and support.
As parents and pupils of Knockmore Primary we have the full backing of our politicians and the people of Lisburn, which was clearly demonstrated by the hundreds of signatures we received."
Mr Heading said he was pleased to be able to show his support to the children, parents and teachers of this valuable school at the heart of a local community'.
"I urge all residents to support this campaign and help send out a clear message that Knockmore Primary School plays a vital role in the development of children from right across the City and beyond and must not be sacrificed by the Board" he said.
Mr Porter, who welcomed the opportunity to add his signature to the save Knockmore Primary School campaign, said:
The Parents, Staff and Pupils of Knockmore Primary have run a very effective campaign highlighting the disgraceful proposals by the South Eastern Education and Library Board to close the school and on Saturday the people of Lisburn had their opportunity to show their support and send a clear message to the SEELB 'Hands off Knockmore Primary School."
He added: "I know the parents were greatly encouraged by the hundreds of people in Lisburn who added their support to our campaign." Mr Craig said: "I was very pleased by the response which was received on the ground on Saturday and I would call on the South Eastern Education Library Board to listen to the clear massage from the Parents, staff, politicians, pupils and the people of Lisburn and save Knockmore Primary School."
Health Trust backs Knockmore

Health Minister Edwin Poots
THE Health Minister Edwin Poots has said the the South Eastern Health and Social Care Trust is objecting to the potential closure of Knockmore Primary School.
Speaking on the matter this week Mr Poots said the Trust would be making its views "very clear" to the Education Board.
He said five health care staff work at the school and the work carried out by them would be "compromised if they are separated into five other units". He said that quality of their work is currently "enhanced by working in a team with members specialising in particular areas".
Mr Poots' announcement comes as the Knockmore Parents Working Group plan to go to Stormont next Monday November 14 to hand over the petition to save the school. Lagan Valley DUP Assembly Member Paul Givan will present the petition to the Speaker of the Northern Ireland Assembly. Mr Givan commented, "We welcome the opportunity as members of the wider Knockmore Primary School family to present our petition to the Speaker of the House concerning the proposals that are facing the school. It is very evident with the hundreds of people who have signed the petition and demonstrated their support for the school, that we are united behind a common goal in stopping the Board's attempts to destroy this excellent educational facility in Lisburn."
Former pupil writes heartfelt letter

Laura Murphy with her cousins Ross Hull, Ben Hull, Katie Hull and brother Dylan Murphy all past and present members of Knockmore Primary School.
A FORMER pupil of Knockmore Primary School has written a heart felt letter to the school's Principal Mrs Shannon on what the school means to her.
Laura Murphy left the school in June after seven years in mainstream classes and after passing the AQE Exam she now attends The Wallace High School.
Laura's letter: I am writing to you to explain why Knockmore shouldn't be closed down and why it deserves to be kept open.
I just left Knockmore this year after 7 years there and in those 7 years it has taught me many things, one being that the people who have learning difficulties or a disability are no different than people with none. Knockmore isn't just a school it's a community. The teachers are not like teachers, they are more like friends, therefore you feel like you can talk to them any time and they are always prepared to listen. They also try to make lessons fun but at the same time for you to learn. They always encourage you and to bring out the best in you. If it wasn't for Knockmore I wouldn't be sitting in Wallace High School. When I walked in to Knockmore on my first day of primary school they encouraged me to do my best straight away and they continued to do this throughout my primary school years. They also helped me to boost my confidence. Without Knockmore I wouldn't have the confidence to do the many things I do today in Wallace. Mainstream children don't treat the unit children any differently. I know this because as a past pupil in year 7 we did an activity called buddies where we went out to the playground at break time and helped the younger children play with the equipment and I noticed that the mainstream and unit children actually played together. Knockmore may not be the biggest when it comes to the number of pupils but when it comes to teaching, friendship and fun Knockmore is the place to be.
Knockmore Primary School was a place where I would want to go every day. If you close Knockmore you will destroy all the relationships between teachers and children and between the children themselves. You would also destroy all the good memories that Knockmore has and you would destroy the community.
Knockmore is a good school and after reading this letter I hope you realise how good a school it is.
Laura Murphy
Ulster Star
11/11/2011