Health Minister shows support for Knockmore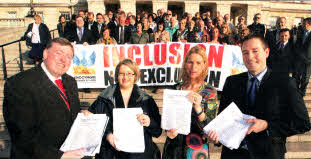 Alderman Paul Porter and representatives from Knockmore Primary Working Group with Alderman Paul Givan MIA who handed over a petition with 9,000 signatures to the Speaker at Stormont.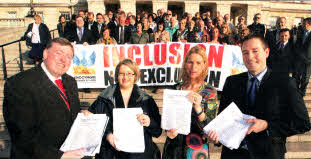 With Health Minister Edwin Poots duirng his visit to Knockmore are pupils Lucy Hobson Heft) and Darcy Pinion and Acting Principal Sharon Shannon during a reading session. Picture: Michael Cooper
HEALTH minister Edwin Poots has visited Knockmore Primary to see the excellent work of staff in supporting pupils with learning disabilities.
Speaking at the school last week Mr Poots said: "It has been my Department's policy to encourage and support people with a learning disability to access all of the things others take for granted. For many this opportunity begins as a child at primary school.
"Departments must work together to support these young people with particular needs and to provide them with the skills they need to progress through school.
"For example, my Department has begun work on the development of a cross-departmental strategy for autism services.
"In doing so we are working in close collaboration with other Departments and agencies, the voluntary sector and with those with autism and their family and carers.
"The development of this strategy will include consideration of how resources can best be used to improve and enhance the range of services provided for those with autism and their families and carers."
Following his visit the Minister added: "I welcome the opportunity to come and meet with the children and staff.
`We cannot allow our school to be destroyed'
by JENNY MONROE
A REPRESENTATIVE from Knockmore Primary has joined a delegation from Lisburn Council to meet with the South Eastern Education and Library Board this week to oppose any closure of the school.
Mrs. Fiona Darragh accompanied the Mayor, Councillor Brian Heading; Chairman of the Corporate Services Committee, Councillor Stephen Martin and Alderman Paul Porter put forward the case for protecting Knockmore 'at all costs'. Mrs. Darragh, herself a teacher and mum to Harry, who attends Knockmore's Speech and Language Unit, made an impassioned and compelling case to the Board's Chief Executive and its four Commissioners.
"Knockmore is a school all about integration and inclusion, a school where mainstream children and special needs children, from all denominations, are educated side by side," she said.
"It is one school, one building, has one Principal, one Board of Governors and one Inspection Report. To try and segregate pupils to justify any potential closure is degrading to these children and possibly discriminatory. Knockmore should be a massive success story for the Board. It is working; it is highly respected by children, parents, fellow educationalists, by politicians and by the local Community as a whole. We cannot allow it to be destroyed," said Mrs Darragh.
Mr Heading said the Council was mindful that the Board, like all public organisations, would have difficult choices to make over the next four years but said the closure of Knockmore Primary would be to the detriment and cost of the local education plan in both the short and longer term.
In years to come the Board will have to reconstruct the local education system and will be looking at building blocks to put it back together. Knockmore Primary School is already one of those building blocks. Do not destroy it but build upon it. Others see one vision in Knockmore Primary School and I am hopeful that the Board and its Commissioners will see it as well," said Mr Heading. Collectively, Knockmore Primary's enrolment numbers exceed the minimum number of pupils recommended under the Bain Report of 2006. There is no shortfall in the management of the school's budget and a recent inspection report rated the school's performance as good to outstanding.
Over 9,000 local people have already signed a petition against any closure and this was handed in to the Speaker of the Assembly and to the Education Minister at at Stormont by parents and elected members on Monday.
MLA Paul Givan said: "I welcomed the opportunity in Stormont to address the chamber directly concerning the fears and concerns that parents have in relation to the plans that the SEELB have for Knockmore".
Mr Porter said the school continues to be a success story at every level. The human element to this campaign is immeasurable. The trauma of moving these vulnerable children is unacceptable" he said.
"The question then becomes not 'How do we afford to keep it going?' but rather 'How can we afford not to?"
Mr Martin thanked the Board, and especially Mrs Darragh for her moving and powerful plea for the school.
"No one could fail to be moved by the case put forward by Mrs Darragh and the parents and staff at Knockmore Primary.
"There are so many educational, legal, moral and financial reasons why Knockmore Primary School must be saved and I urge the Board to make the right decision — to protect Knockmore Primary School," said Mr Martin.
Petition opposing Dunmurry closure presented to Board

Jonathan Hamill, a student at Dunmurry High School, presents a petition to the South Eastern Education and Library Board opposing the potential closure of his school. Supporting the campaign to keep the school open are the Mayor of Lisburn, Councillor Brian Heading, elected representatives from the Dunmurry area, students, parents and teachers of Dunmurry High School.
A PETITION opposing the closure of Dunmurry High School has been presented to Education Board. Speaking about the potential closure the Mayor, Cllr Brian Heading, said: "The Lisburn area
has been dealt another blow with the news that Dunmurry High School may close.
The school is very much at the heart of the community and without it the community would clearly suffer. We will be working with the school and the local community in supporting their campaign and doing everything we can to keep the school open."
"I am very impressed by the professionalism and dedication shown by the staff and the pride and enthusiasm the children have for their school."
Ulster Star
18/11/2011