Hospital staff `demoralised' as uncertainty over A&E continues
by JULIE-ANN SPENCE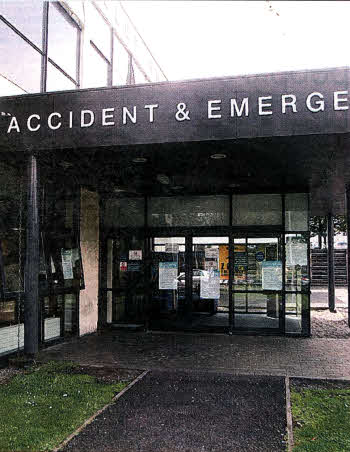 PRESSURE on staff at the Lagan Valley Hospital's Accident and Emergency Department is increasing as uncertainty surrounding the future of the unit continues, a leading trade union has claimed.
John Gilgunn and Marion Ritchie, Co-Secretaries of the Down Lisburn branch of Unison, the union representing many of the staff affected by the reduction in hours at the A&E, said a lack of communication by the South Eastern Trust has led to confusion and mounting distrust amongst the staff.
"Things are very up in the air and change daily," said Mr. Gilgunn. "Staff are very uneasy, particularly because there was no warning, the first we heard about it was when we saw it on the news.
'A lack of communication creates distrust," continued Ms. Ritchie. "These are loyal staff who have worked for years in the hospital and to be treated in that way is disrespectful. There is a little
more communication now but there is very little being passed on. The staff have no idea what is happening after September 1."
Mr Gilgunn insisted that Unison would be focusing on securing the reinstatement of 24/7 opening hours at the Lagan Valley Hospital and that the union would be using an upcoming national ballot of members on budget cuts to highlight the situation at the Lagan Valley,
"Our aim is to win a 24 hour A&E because that's what the people want," he said.
"We know a working group has been set up by management regarding the way forward for the Lagan Valley but there has been no consultation with staff or the union. Nothing is going to be a success without the staff on board. "We believe the Trust are trying to recruit junior doctors but at the moment staff at the hospital are feeling very demoralised," he added.
Council delegation to meet with Health Minister
A DELEGATION from Lisburn City Council will travel to Stormont next month to meet with Health Minister Edwin Poots to discuss the current situation at the Lagan Valley Hospital.
Representatives from each of the political parties on Lisburn City Council will met with the Minister on September 12 regarding the reduced opening hours of the Lisburn Hospital's Accident and Emergency Department.
The Council has also agreed to write to the Northern Ireland Medical and Dental Training Agency asking them to make a presentation at a future meeting of the council regarding the recruitment of junior doctors, the lack of which has been blamed for the overnight closure of Lagan Valley's A&E department.
julieann.spence@ulsterstar.co.uk
Ulster Star
26/08/2011