Club celebrates first 10 years of rambling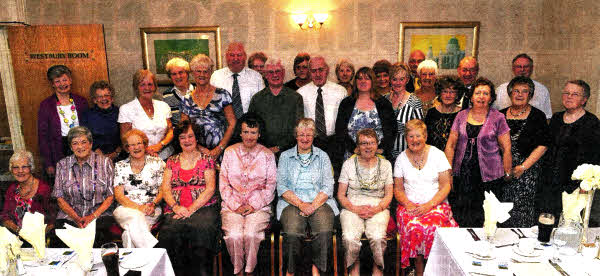 Members of Lagan Valley Rambling Club celebrate their 10th anniversary at the Ballymac Hotel US3811-401PM Pic by Paul Murphy
LAGAN Valley Rambling Club celebrated their 10th anniversary on Tuesday (September 13) with a dinner at The BaIlymac Hotel. Approximately 36 members enjoyed an evening of dining, dancing and a trip down memory lane by watching photographs of past outings.
The club began their trek in May 2001 when the Health Promotion Agency provided a small grant to set up the Lagan Valley Exploration Project.
Bill Ervine used the grant to organise a series of Tuesday evening walks that summer and to get guests to explain the history and wildlife of the river from Lagan Meadows to Slieve Croob.
In September, when the grant ran out, the walkers decided to set up the Lagan Valley Rambling Club, to extend the walks to weekends and to widen the range to the rest of Northern Ireland and beyond.
The club is based in Lisburn and has approximately 30 members, of whom about 10 —15 turn up for each walk.
Most members are late middle aged so most of the walks would be in the easy category. They tend to walk in the more picturesque parts of the country, and while they like the mountains they seldom climb to the top.
The club is active winter and summer and they have programmes for both weekend and evening walks.
If you are interested in getting out for some gentle walking you will be most welcome to join the club, in fact you will be welcome to go along to one of the walks as a visitor, without obligation, to see how you get on.
For further information, phone the Chairman, David Jamison on 92678277, or the Secretary Jim Allen on 92601943.
Ulster Star
16/09//2011