Yeehaa! Lambeg Players return to the stage
by JULIE-ANN SPENCE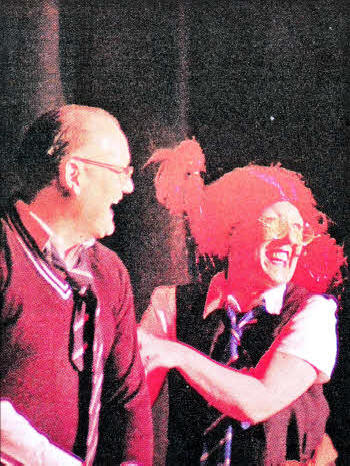 Ian Bennington and Laura Kerr on stage with Lambeg Players
LOCAL dramatic society Lambeg Players last staged a pantomime in Lisburn's Lagan Valley Island Hall in January 2009 but next month they return with a panto which is no Cinderella or Jack and the Beanstalk but 'Panto at the OK Corral'.
Producer Ian Bennington explained why the more traditional titles have been forgone in favour of this western-themed production by Jim Sperinck.
"This panto by well known English author Sperinck is his best seller but had never been performed here in Lisburn before" said Ian.
"Our last panto Sinbad in 2009 was also by Sperinck and we had a sell out run with that production, raising about £6,000 for local charities and good causes bringing our total to over £80,000. We then did a very successful 'greatest hits' show in January 2010, which was produced by Colin Boyd and Paul Bennington and featured many of our favourite Panto clips."
Ian went on to explain that the company decided to take a break this year but everyone is looking forward to getting back on the stage at the start of 2012. "Our panto involves a large number of local families with many having mums, dads and kids on stage or backstage doing set and costume etc. and most have been doing it for decades," continued Ian. "The time demands on top of normal work commitments are pretty intense so we took a year out. Actually it was quite good timing as the severe snow over that period would have probably sabotaged the whole show."
Ian is confident that local audiences will enjoy this unusual take on a theatrical tradition.
"Lambeg has a large following who have probably been to many of our shows and know that whether its Babes in the Wood, Mother Goose or Snow White the old ingredients they love are always in there and this show is no different.
"It may be set in the Wild West but our audience will see little change to our tried and tested recipe. We have hilarious characters such as 'Calamity Jane', 'Clint Westwood' and 'Butch Casserole' and the 'Suntanned Kid' as well as 'James the Jessie' and 'Buffalo Bill'. Then of course there is an evil Sheriff, a pantomime horse and Dame 'Winnie Pegg'.
"Our last few pantos and this one, have been produced by myself with Laura Kerr and Winston Kerr and Michael McCormick returns as Musical Director leading his five piece band so anyone who has experienced our particular brand of entertainment can be assured of the same fun, frolics, comedy, songs and dance routines and many cameo appearances and sketches crowbarred into the script in true Lambeg style," he concluded.
The show runs from Tuesday January 3 to Saturday January 7, 2012 at 7.30pm with a matinee on the Saturday at 2.30pm. Tickets are now on sale from the Box Office on 9250 9254 or online at www.laganvalleyisland.co.uk.
julieann.spence@ulsterstar.co.uk
Ulster Star
16/12/2011