BBQ raises funds for Leah's Viking Riding Challenge
| | |
| --- | --- |
| | |
| L-R Kathy Abusow, Karen Gamble and Leah Abusow | Michael Taylor and friends |
CULCAVY: Local horse enthusiast, Leah Abusow, recently held a barbeque at Brown's Farm on the Waterloo Road, Lisburn which raised over £1500 for a fundraising challenge that she will be participating in next August in Iceland.
Leah will be one of 16 riders from all over the United Kingdom taking part in the British Horse Society Viking Riding Challenge. Challengers will be herding over 100 Icelandic ponies on horseback for five days, covering 180km through the outstanding yet demanding terrain that is Iceland.
The ride will raise funds for the British Horse Society's horse welfare department. The BHS has more horse-specific volunteer welfare officers than any other organisation and needs continual public funding to help them to carry out their role and provide them with the resources necessary to improve the lives of hundreds of neglected and ill-treated horses every year.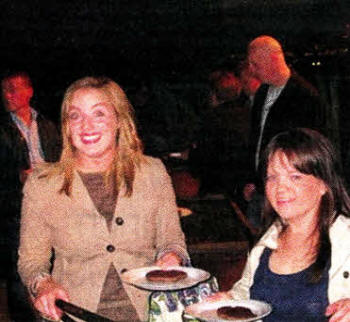 Laura McCready and Claire Phillips
The impressive turnout at the barbeque of nearly 250 people, along with the generous support of various local businesses ensured that Leah raised all of the money that she needs to take part in the challenge, ten months before the fundraising deadline.
"It was fantastic that we raised so much money from the evening. Everyone has been so generous at a time when people really don't have much cash to spare" says Leah.
She plans to continue to fundraise right up until the deadline in June.
"Obviously the more money I can raise, the better. At the minute more horses than ever are suffering from neglect, which unfortunately can be due to some owners experiencing money problems. The British Horse Society does a fantastic job at helping to alleviate the suffering and distress of so many horses, ponies and donkeys that have sadly been affected by this."
Leah would like to thank the local businesses that generously supported the event, including The Meat Centre (Moira), Andrew Ingredients, Greers Coal, Rumbles, J H Print & Packaging, Natural Hair Company, Hannan Meats, Tractormatic and AM Plumbing. To track Leah's progress or to make a donation visit www,justgiving.com/Leah-Abusow
Ulster Star
07/10/2011