Strictly Morse Code for dancing judge Len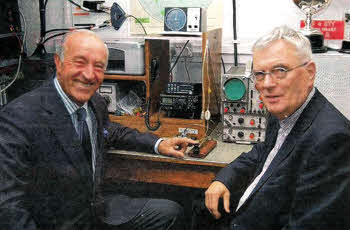 Len Goodman with Jim Henry on a recent visit to the Lagan Valley ARS shack, where they were filming a programme commemorating the sinking of Titanic 100 years ago.
STRICTLY Come Dancing judge Len Goodman has paid a visit to Lisburn to learn all about Morse Code for a new documentary. Len, who is well known for his appearances on the hit BBC1 series, is currently filming a three part documentary to commemorate the 100th anniversary of the sinking of the Titanic.
As part of the documentary, entitled 'Titanic and Me', Len wanted to learn all he could about Morse Code and how the radio operators on the Titanic made use of it.
Jim Henry from the Lagan Valley Amateur Radio Society, which is based just outside Lisburn, was on hand to teach Len everything he needed to know.
"The Lagan Valley Amateur Radio Society was formed about 33 years ago by a group of licensed ham radio (not CB) operators," explained Jim. "It is a small but very active club. Members are engaged not only in world wide communications with other ham radio operators, but also actively involved in experimenting and testing new forms radio communication, constructing radios and antennae (aerials), and harnessing the power of the internet to support our radio activities.
"In the early days of the hobby the prime mode of communication was morse code and until a few
years ago applicants for a full amateur radio licence had to pass a test demonstrating they could send and receive morse at a speed of 12 words per minute. This is where Len Goodman comes into the picture.
"Len is currently filming a series of three programmes for the BBC entitled 'Titanic and Me'," continued Jim. "These are to be broadcast next year to commemorate the 100th anniversary of the sinking of Titanic. Len wanted to learn about morse code and how the radio operators used it to summon help for the stricken ship.
"The LVARS was in a position to provide this information and to demonstrate the use of morse.
Examples of the messages sent by Titanic were provided and the origins of the distress call sent (CQD) and its relationship to SOS were explained. "It was also explained that the morse telegraphy equipment on board Titanic had been provided to enable passengers to send messages back home and had not specifically been considered for emergency communication purposes.
"It was only after the Titanic disaster that it became mandatory for ships to have radio telegraphy equipment and a qualified radio operator on board before they could set sail."
'Titanic and Me' is expected to be screened in April next year.
julieann.spence@ulsterstar.co.uk
Ulster Star
26/08/2011