A family who know how much the Hospice helps
by MARY MAGEE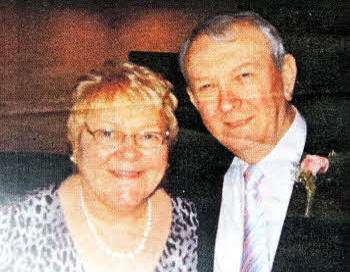 Edith Wilkinson with husband Jim
A LISBURN family is urging local people to support the annual Northern Ireland Hospice Lights to Remember campaign.
Edith Wilkinson from Adlon Gardens, whose husband Jim died at the age of 67 in September 2010 from lung cancer, said the Hospice helped her and the family in so many ways and still continues to support them.
Jim battled his condition for 18 months. He was diagnosed with lung cancer in 2009 which spread to his pelvis and spine.
Months before he died medical staff suggested a four week spell in the Hospice at Somerton Road would benefit him.
"Jim was in a lot of pain," said Edith. "No matter what he was given at home his pain couldn't be controlled. The help he got was fantastic and they helped us as well in so many ways. Nothing was ever too much trouble. When I asked for a blanket when be was cold staff just dropped everything they were doing and went and got him a blanket."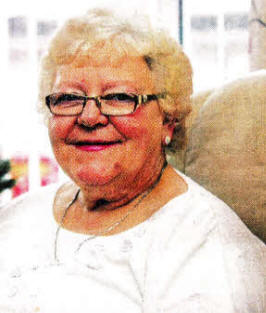 Edith Wilkinson whose husband Jim was cared for by the Hospice
Jim was first diagnosed in 2009 when he went to the doctors for problems with hemorrhoids and was sent for a colonoscopy at the Lagan Valley hospital.
However, when they received the results they were surprised to be told he had an appointment with a chest specialist.
The doctor told the pair Jim had a shadow on his lung. A biopsy at the Lagan Valley found that he had lung cancer. An MRI scan at the Royal Victoria Hospital showed it had also spread to his pelvis and spine.
He attended the Royal and the Cancer Centre at the City for treatment.
Attention
"It was while at the City that he was asked if he would go on trial medication," said Edith. "There had been a doctor in America who was in Belfast and his consultant wanted to know if Jim was interested in undergoing trial treatment which he agreed.
"But after his first bout of chemotherapy his kidneys failed and they took him off the trial medication."
They got him stabilised and gave him chemotherapy treatment in tablet form.
He went back into the Royal and he was told because the cancer had spread to his bones that he could no longer drive.
A cancer consultant went out to see Jim at home and in May he went into the Hospice to help control his pain.
"The staff there were very good to him and the attention he got was second to none," said Edith.
"When he first went in we had to tell him he needed to buzz the nurses if he was in any pain.
Nurses said he wouldn't ring the buzzer and when we asked why he said he didn't want to annoy them."
The hospice care extended to the family. While Jim was at the Hospice Edith went for a session of reflexology. That care has continued even today with a member of her family receiving counselling at the Atlas Centre in Sloan Street.
"We did benefit and continue to benefit from the Hospice" said Edith.
Since Jim's passing Edith likes to support Hospice ventures. Recently she attended a prayer service in Belfast.
The appeal focuses on sponsoring a light on the Hospice Christmas tree in memory of a loved one and is the most significant event in the calendar for the charity. This year the Speaker of the Assembly, MLAs and Ministers are showing their support for the campaign by dedicating the Christmas trees at Parliament Buildings to the Hospice appeal.
Now in its 27th year the charity founded by local people to care for local people has gone from caring for 98 patients to over 3,000 patients annually.
Increase
Demand for hospice services in NI continues to increase and the charity is now caring for over 90% of patients in their preferred place of care, at home.
The switch on of the Hospice Christmas tree at Somerton House will take place on Wednesday 21st December. It will begin with a short service at 7.30pm in Dominican College, Fortwilliam Park, Belfast BT15 4AP and is followed by a torchlight procession to Somerton House for the switch on of the lights in the grounds of the Adult Hospice at around 8.15pm. Over 1,000 people are expected to attend the annual event. Log onto www.nihospice.org to sponsor a light or tel: 90 777 123 for further information.
Ulster Star
16/12/2011