Special Needs Children Told To Wait Outside For School Bus
`I will not put her health at risk' says mum as daughter is kept off school
by MARY MAGEE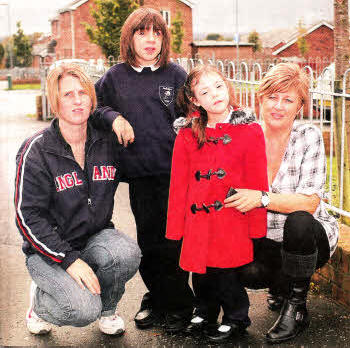 Lindsay Myer and daughter Chloe and Heather Donaghy with daughter Ellie now have to take their children to a pick-up point for the special needs school bus rather than be collected at their homes. US4111-526cd
A LISBURN mother has taken her child out of Parkview Special School this week following a row over transport and is vowing she won't be going back until it's resolved.
Lindsay Myer was told a few days before the start of term that from September her 11-year-old daughter Chloe Matchett would no longer be picked up from her home at Windermere Drive, as she has been for years, and instead she would have to go to an approved pick-up point a few minutes walk away and wait for the bus to arrive.
Lindsay said she and two other parents in the same area were given the news by the South Eastern Education and Library Board just three days before the term started.
Things came to a head on Monday, during a torrential overnight downpour, when Lindsay felt she could not allow Chloe to stand out in the rain any longer and a neighbour took her to school.
Now Lindsay says she will refuse to allow her child to stand out in the winter to wait for a bus.
Chloe suffers from a wide range of complications including muscular dystrophy, asthma, nicolitis, epilepsy, scoliosis of the spine and severe learning difficulties.
Her mother says standing ;in the rain makes her condition worse.
Lindsay said: "I have other children and if it were them I would give them a coat and an umbrella and send them on their way. However, with Chloe it's different. If she is sick and gets a chest infection she cannot use her medication for her epilepsy and makes things worse with that condition.
"My child's medical files are huge and I will not put her health at risk.
"She has been going to Parkview since she was four and has always had been picked up from home then out of the blue we were told there was a new pick up point. There were no negotiations.
"We have been told there is nothing we can do. But why this dramatic change and why now?
"We have even asked the bus driver to go to one of the three houses affected so he can pick up all the children and there would be no delays if that is what the problem is, but we were told no.
"There has been no flexibility whatsoever. I have had no alternative but to stop my child going to school.
"I will not let her go back to school until this is resolved. My cousin attended a special needs school for 16 years until he sadly passed away and he was always taken from home to the school - he never had a pick up point."
Another parent Heather Donaghy, whose daughter Ellie Doherty (7) has Down Syndrome, has encountered the same problem.
They also live at Windermere and in the past few weeks her daughter has had to take time off due to a chest infection. She blames her sickness on having to wait outside in the rain for the bus.
"She is prone to infections and has a very bad chest infection at the moment because she had to stand outside waiting for the bus," she said. "Last Wednesday she had to stand for 15 minutes at this new pick up point before the bus arrived.
"If Ellie gets the cold at all it means a trip to A&E.
"I have her education statement - which is a legal document - which states that she is entitled to get picked from her home to school, there's no mention about pick up points.
"The school have backed me up on this. I tried to compromise and have asked if the bus driver can give us a ring when they are coming but that has been refused. We are not asking much, but they just refuse to meet us in the middle.
"It is ridiculous Ellie's health is put at risk over this issue."
The SEELB responded: "With responsibility for the daily transportation of over 18,000 pupils the Board must allocate pick up points to ensure that: pupils' length of journey is not unreasonably long; pickup times are not unduly early; and pupils arrive at school in a timely fashion for the commencement of the school day. Facilitating these demands means that it is not always possible to provide a door to door transport service.
"In this regard the Board does give careful consideration to individual medical advice in co-ordinating its transport services and will ensure transport operates in the vicinity of a pupil's home to facilitate needs such as mobility issues etc.
"Whilst the Board appreciates the challenges thousands of parents have in delivering their children to pickup points, particularly during periods of inclement weather, a pick-up point in close proximity to a pupil's home would not be considered unreasonable and is in line with Department of Education's Transport Policy.
"In relation to this specific case, the Board has offered parents an alternative pick-up point which has been accepted."
Ulster Star
14/10/2011