Lisburn Entrepreneurs Network welcomes BBC business editor
by STACEY HEANEY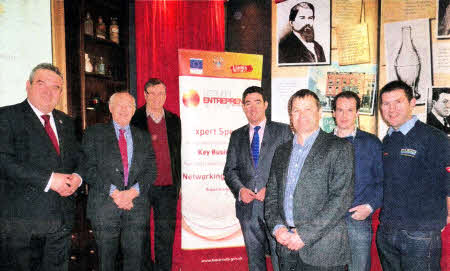 Guest host Jim Fitzpatrick, Business and Economics Editor, BBC Newsline with key speaker Mr Simon Smith, Simon Smith Coaching; Alderman Jim Dillon, Chairman of the Council's Economic Development Committee; and Lisburn Entrepreneurs Network business delegates at the November 2011 LEN event held in Coca Cola, Knockmore Hill, Lisburn.
THE Lisburn Entrepreneurs Network has held a seminar hosted by BBC's Business and Economics Editor, Jim Fitzpatrick and Angelina Fusco the Editor of BBC Newsline.
A key part of the seminar was a Question & Answer session which was followed by a lively debate which involved delegates discussing key issues impacting upon their businesses in today's current economic climate.
Among the issues identified were a lack of (or poor) broadband coverage in their area; minimal positive business success stories covered in the media; problems with meeting public procurement criteria especially for start-up companies; and a lack of engagement with the Northern Ireland Assembly.
Delegates found this session particularly beneficial as it acted as a mechanism for them to get their message heard by both the media and public representatives.
LEN is managed by the Economic Development Unit of Lisburn City Council and provides a networking and discussion forum for small businesses based in the city.
Alderman Jim Dillon, Chairman of the Council's Economic Development Committee, said: "I was delighted with the numbers in attendance and I would encourage all local businesses to pencil future LEN meetings into their diaries and make these events a regular feature in their business activity as there is much to be gained through attending."
The event's guest speaker was Simon Smith of Simon Smith Coaching who delivered a presentation on 'Selling from a Buyer's Perspective'. This provided a practical guide to sales and useful tips to help all businesses in their quest to gain and retain customers.
Delegates were also given the opportunity to enjoy an interactive tour of the Visitor Centre and facilities at the Lisburn Coca-Cola plant, and see how its product range is manufactured, packaged and then distributed. The next Lisburn Entrepreneurs Network (LEN) event is taking place on Thursday January 24th 2012 with guest speaker David McComb from Parity Ltd.
To register your attendance or if you would like to speak in the 'Business Spotlight' at any upcoming event contact Sophie McAuley on 028 9250 9390 or email sophie.mcauley@lisburn.gov.uk
stacey.heaney@ulsterstar.co.uk
Ulster Star
30/12/2011