Local business success recognised at Lisburn showcase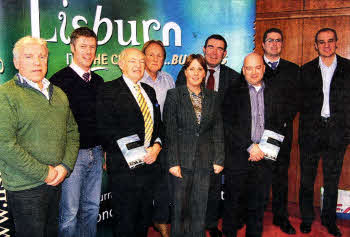 Councillor Jenny Palmer and Alderman Jim Dillon, Chairman and Vice-Chairman of the Economic Development Committee, with local business representatives at the Lisburn Business Showcase 2009-2010.
THE Council has hosted the Lisburn Business Showcase to celebrate local business success and officially launch their latest publication, the 'Lisburn Business Showcase'.
Chairman of the Economic Development Committee, Councillor Jenny Palmer hosted the event to an audience of local businesses and civic and community representatives. She said the Council was "delighted to have once again worked with so many inspiring local companies over the course of the last twelve months.
"Although this publication may be small in size, it is one with a big message; the City of Lisburn is proud to celebrate and give recognition to local business achievement." The Showcase booklet profiles 16 local businesses that have participated on Council-led business development initiatives, such as the Atlanta, Netherlands, and Central and Eastern Europe Trade Development Programmes, the Innovation Networks Programme, the Competitive Edge Programme, the Advanced Industry Materials Savings Programme (AIMS), the Franchising Programme and the Graduate into Business Programme.
Guests also heard first hand from five businesses profiled in the publication, including Michael Brady from Cocoon (Europe) Ltd, David Craig from Craigs Ltd, Terry Simpson from Arcatech Ltd, Alan
Stringer from The Precision Group and Mark Smiley from Cutting Industries, who all gave a brief overview of their business and their experience of the Council business support initiative that they participated in.
Mrs Palmer said: This event is all about the businesses who have achieved new sales and growth through dedication and hard work, and those businesses who have proved that they are able to compete on an international platform.
"I hope the case studies featured will motivate other local companies to make contact with the Council's Economic Development Unit to explore the various areas of assistance and support on offer from either the Council or one of its local enterprise partners. I would encourage local companies to make the Council their first port of call for information and advice on any aspect of their business development."
Ulster Star
14/01/2011