Lisburn man speaks out about years of suffering at Lissue House
David claims he was locked in his room, stripped naked, beaten on a regular basis and dragged by the hair down the corridors
by JULIE-ANN SPENCE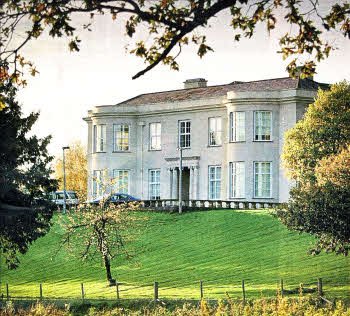 Lissue House - the hospital there closed in the late 198Os
A LISBURN man who was abused at Lissue House has spoken out about his years in care.
David Simpson, who still lives in the city, was taken into care at the age of 7 after his parents separated. He was sent to Lissue House where he says he was badly beaten and humiliated on a daily basis.
In 1993, after leaving the care system, David reported the abuse to the police but, he says, nothing was ever done about it.
When I told staff at Lissue that I would report them to the police, they laughed in my face and told me no-one would believe me," said David.
"What I have written down is nothing compared to what I had to go through on a daily basis. It wasn't just me."
In a statement made to the police in 1993 David told of the treatment he received at the Lisburn hospital, including being locked in his room, stripped naked, beaten on a daily basis and being dragged by the hair down the corridors.
After being caught in the kitchen one night, David recalls: "Before I got out of the kitchen door, a member of staff burst through the door and grabbed me by the hair. He dragged me out of the kitchen on my back. I was screaming and shouting. He dragged me along three corridors, through doors where my legs caught. I was in pyjamas and bare feet. He dragged me up two flights of stairs on my back and threw me into my room."
On another occasion David remembers having water thrown over him after he tried to barricade himself in his room. "I was pinned down to the floor and stripped naked," he explained. "I was held down on my stomach and given an injection. I was put onto the bed and passed out."
David also recalls the harsh treatment another child at the hospital received. "A young girl who was emaciated and had short cropped dyed blonde hair wasn't allowed out of her room.
"She was anorexic and was kept in the furthest room from the common area. She was locked in isolation, given rags to wear and had to earn every privilege by putting on weight.
You had to go past her room to the toilet and she would be standing at the door begging for help, for anyone to talk to. She was never allowed visitors.
"She was a couple of years older than me and I used to sneak her books to read. Her time in Lissue revolved around that room."
David, who is trying to write a book about his experience of the care system in Northern Ireland, says he is still suffering as a result of his treatment at Lissue House.
"I had shoulder surgery a few years ago because my shoulders were so weak," he explained. 'After I left care they kept dislocating. I believe it was a direct link to the abuse I suffered in care. Staff would often restrain you by putting your arm up your back to the point of dislocation."
David has also set up the 'Lissue Hospital Abuse Support Group' on Facebook, where people can share their experiences at the Lisburn hospital. The group can be found by searching 'Lissue Hospital Abuse Support Group'.
---
Police pledge to review abuse allegations
THERE will be a full review of all matters relating to alleged child abuse at the Lissue Hospital in Lisburn, the PSNI has said.
A number of police investigations have already been carried out over a number of years with files sent to the Director of Public Prosecutions and Public Prosecution Service.
The latest investigation will focus on allegations relating to both Lissue House and Forster Green in Belfast-during the 1980s and 1990s.
According to the PSNI, in July this year they received a copy of reviews carried out by various trusts and boards and an initial assessment and review was carried out by police.
A PSNI spokesman said: "When an allegation of criminality is identified, an investigation will be duly conducted by police.
"We would strongly urge any victims of abuse to contact their local team of specially-trained detectives from the Public Protection Unit. All allegations and any new information will be thoroughly investigated."
Health minister Edwin Poots has insisted that his department is cooperating fully with the review.
"I want to reassure the public that my officials have been co-operating fully with PSNI in its investigation into allegations of abuse at Lissue House and Forster Green," he said.
"The PSNI has stated that it is fully confident that senior trust, Board and Department officials are sharing and will continue share information with its investigating team. My officials have shared their internal review reports with the PSNI and will continue to offer whatever assistance they can to see this investigation through to its conclusion.
"I want to make it clear that anyone with any information of use in this investigation should share it with the PSNI," he concluded.
julieannl.spence@ulsterstar.co.uk
Ulster Star
04/11/2011