local men ready to tackle the Pyrenees for Friends of the Cancer Centre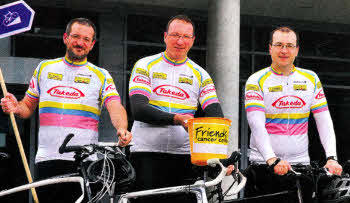 Getting in some training ahead of September's 'Climb Every Mountain' cycle challenge in aid of Friends of the Cancer Centre are (from left) Philip Nicolls, Jonathan Bunn and Mark Grattan.
THREE men from Lisburn will be setting their sights high to raise money for a cancer charity when they saddle up for a cycle challenge through the Pyrenees next month. Mark Grattan, a medical physicist at the Cancer Centre, Jonathan Bunn, a surgeon at Craigavon Area Hospital and Philip Nicolls, a finance manager for Caterpillar Electric Power Division will be among a 20 strong group of mainly doctors and nurses taking part in the lung bursting Climb Every Mountain cancer charity cycle.
From September 19 to 25, they will be tackling all the famous peaks followed by the Tour de France, pedalling an average of 70 miles a day to raise money for Friends of the Cancer Centre.
The climb will total over 40,000 feet from Perpignan to Biarritz without seeing a single flat road on the way.
They will join a sporting team comprising staff from The Cancer Centre, cancer survivors and members of the Phoenix Cycling Club.
Mark described the event as a 'massive challenge' which will help those who also live with the challenges of cancer on a daily basis.
"That motivation is enough to give us the energy we'll need to average 70 miles a day over some mega-peaks, as we take on what has been described as one of the world's great bike rides," he said.
"I'm keen to support Friends because there can be few families in Northern Ireland untouched by cancer, so this seemed a really worthwhile cause, particularly as Friends offers such a practical and warm helping hand to cancer sufferers."
The money they raise will help provide the latest medical equipment to help with the diagnosis and treatment of cancer by funding specialist medical posts and by improving the quality of life for cancer patients and their families through diverse projects which range from complementary therapies and relaxation classes to refurbishing the on-site 'patient hotel' for those who regularly have to travel long distances for their treatment.
Mark, who has been cycling into work as part of his training, continued: "I'm looking forward to this cycling challenge, not least because it will be done in the company of friends and for 'Friends.'
"There will be no easy going and we can expect this to be very tough in places and even the weather will have an impact on our progress. In a single day there could be high temperatures at the bottom of a mountain but freezing cold temperatures and snow at the top.
"In the past year I've taken up riding to and from work in the warmer months. We all know that we have to be really well prepared and the prospect of the event is encouraging all of us to build our fitness levels."
Colleen Shaw, Director of Friends of the Cancer Centre, said, "This really will be a 'tour de force' from our cycling supporters and we are extremely grateful to them for opting to support us.
"They, and their sponsors, can be very sure that their pedalling will notch up real and practical benefits for cancer sufferers and their families from right across Northern Ireland. We wish them every success."
Donations large and small are welcome and can be made by contacting Friends of the Cancer Centre directly on 028 9069 9393 or via www.justgiving.com/climbeverymountaincancercycle.
Ulster Star
26/08/2011