Local make up artist's `brush' with Rihanna
...and there were starring roles for her twin brother and boyfriend too
by STACEY HEANEY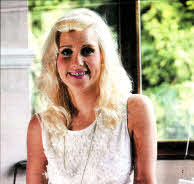 Gemma Fenton who worked on Rihanna's recent Video Shoot. US4011-116A0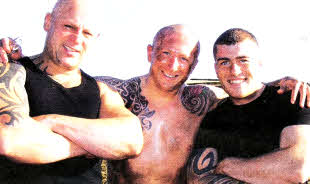 From left to right: Vinnie Gormley and local men John Smyth and Martin Fenton, who were involved in Rihanna's much talked about video shoot in Bangor and Belfast last week.
A LOCAL make-up artist had a 'brush' with superstar Rihanna as she filmed her latest music video in Northern Ireland amid a sea of controversy last week.
The music world was abuzz with news of the Barbadian beauty, when a Bangor farmer who had given permission to use one of his fields for filming asked for the cameras to be switched off when the star went topless.
One person with a ringside seat for the making of the video for 'We Found Love', which features Calvin Harris, was local make-up artist Gemma Fenton, from the Black's Road who spent two days working on the shoot.
And it wasn't just Gemma - her twin brother Martin and her boyfriend John were able to get up close and personal with the singer, with both men getting starring roles in the much-anticipated video.
24-year-old Gemma said: "It was absolutely fantastic. It was brilliant hearing the song blaring out and was such an adrenaline rush being there. Thinking about it afterwards it was really surreal."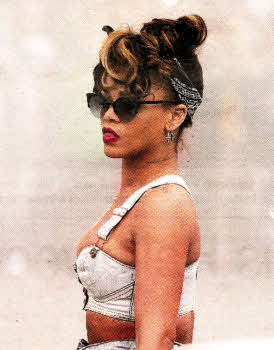 Rihanna on location in Belfast last week. Pic by Cliff Donaldson
Gemma has recently graduated from the Oonagh Boman School of Make-Up and the local girl, who is currently working freelance, was thrilled to be involved with such a high profile job so quickly.
"I just finished the course in July so it was great to get such a high profile job so soon," she said. "I found out about it on the Friday, but I wasn't told until the next day who the video was for. A friend of a friend was co-ordinating the video and she had seen my work and recommended me. I wish I could do it all over again."
Despite her excitement, Gemma had a difficult job to do on the shoot, working a 20 hour day during filming including shooting the scenes which took place in the now infamous field in Bangor.
"I was involved in the Belfast shoot at North Street, right after Bangor, which was a 20 hour day, and then we filmed in New Lodge the next day. It was great, there was a lot of waiting around, but there was such a good atmosphere. I never imagined how I'd end up standing in a field filming a video with Rihanna and Calvin Harris. I can't wait to watch it."
It was Gemma's job to work on the make-up for the enormous number of extras in the video, with the star herself having flown her own team from LA.
"It was crazy the amount of people who were down on the set," Gemma explained. "There
was a mosh pit scene in Bangor and I had to muck everybody up. At one stage my boyfriend was dancing with Rihanna, I was a wee bit jealous actually because I wanted to be in the video myself, I just wanted to jump in there!"
Gemma's boyfriend John Smyth and her twin brother Martin were chosen specifically because of their body art, with those behind the video looking for local people with tattoos. With such a strong connection to the video, Gemma's family are planning a special 'launch night' party to watch the video and celebrate their involvement.
Gemma and Martin's mum Siobhan said: "I'm very proud at how well Gemma's doing, obviously I'm delighted for her, and with Martin and John in the video, it's a wee bit surreal. It's fabulous to think Martin's going to be on MTV. We'll have to have a launch night to watch this video. "Rihanna has already said she thinks this is her best video ever - I think that farmer did her the best favour ever with all the publicity.
"This was the experience of a lifetime for them all, I'm delighted."
Ulster Star
07/10/2011