Councillors tackle training agency over LVH A&E crisis
by JULIE-ANN SPENCE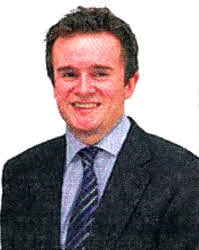 Councillor Stephen Martin.
IN its latest round of urgent meetings regarding Lagan Valley Hospital, Lisburn City Council has met Northern Ireland's Medical and Dental Training Agency (NIMDTA). During its meeting with the Council's Working Group on health matters, the Agency outlined its role in the provision of training doctors within the Health Service.
NIMDTA is responsible for the funding, managing and supporting postgraduate medical and dental education within Northern Ireland and there has been much speculation about their role in the current junior doctor shortage at the Lagan Valley Hospital.
At the meeting the Elected Members sought to clarify how the situation at the Lagan Valley Hospital had got to the stage where night time closure of the A&E was the only temporary viable option.
Speaking after the meeting, Chairman of the Council's Corporate Services Committee, Councillor Stephen Martin said: "The current crisis in the Health Service involves so many levels of administration and organisations; it is difficult to identify a single solution to the problems being faced across Northern Ireland.
Agreed
"In an attempt to work through these issues collectively it was agreed at the meeting that a round the table meeting be organised with all those organisations involved in the current crisis at the Lagan Valley and any potential solution.
"NIMDTA has already agreed to take part in this meeting and we will be extending an invitation to the Trust and the Local Commissioning Group to ensure a co-ordinated and comprehensive way forward," said Councillor Martin.
julieann.spence@ulsterstar.co.uk
Ulster Star
21/11/2011