Thousands more expected at Lagan Valley
as City A&E prepares to close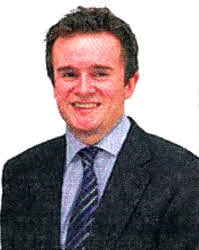 Councillor Stephen Martin
NEXT month the accident and emergency department at Belfast City Hospital will close its doors and the patients who would have used the unit will have to travel to other hospitals, with thousands expected to arrive at the Lagan Valley Hospital each year.
When the opening hours at Lagan Valley were slashed during the summer there was outrage in the local community and news of additional pressure on the system will not help to ease those fears.
A spokesperson for the South Eastern Trust revealed that additional measures were being put in place at the Ulster Hospital and admitted that this was a "challenging time" for the staff.
It was also revealed that an additional 3,000 patients per year were expected to attend the Lagan Valley A&E, with an additional 500 admissions to the hospital. "This will be a challenging time and as always our staff have responded fantastically to this challenge," she said.
"They have worked tirelessly to ensure that as much of this additional capacity will be in place by November 1.
"It is expected that an extra 3,000 patients per year will attend Lagan Valley Emergency Department during its current temporary opening times of gam to 8pm, resuiteing in an additional 500 admissions to the hospital.
"However this is still less than the number attending before the reduced opening times were implemented, so the hospital is able to cope."
The Chairman of Lisburn City Council's Corporate Services Committee, Councillor Stephen Martin warned that this latest closure would further stretch emergency services in the Greater Belfast area, services which are already close to breaking point.
"Emergency care across the Greater Belfast area has already been cut dramatically," said Mr Martin.
"This latest closure further reduces the availability of emergency departments for Lisburn residents after 8pm.
"It is yet more evidence of the real need for 24 hour provision at the Lagan Valley Hospital, both for the people of Lisburn and indeed the wider population, to reduce the overwhelming pressure on the remaining Accident and Emergency departments in Belfast."
julieann.spence@ulsterstar.co.uk
Ulster Star
28/10/2011